Myth 2: GDPR has killed email marketing
Myth 2: GDPR has killed email marketing
Category: Email Marketing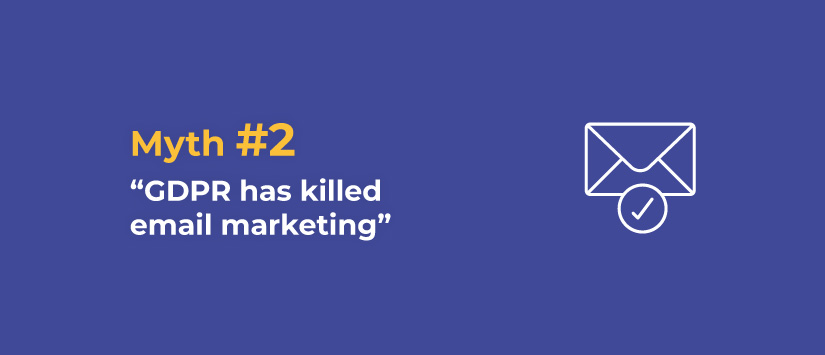 Before, it was all too common to receive an email marketing campaign from a company without knowing who they were or a newsletter that we didn't remember signing up for. But in 2018, the General Data Protection Regulation (GDPR) put an end to these bad practices, improving communication with users.
Saying that it killed email marketing is a myth believed only by those who used to send such emails, now considered spam. Perhaps in the early days, it did revolutionize the industry due to the changes it required in forms and internal protocols, but it is now well surpassed.
What is the General Data Protection Regulation?
The GDPR came into effect on May 25, 2018, throughout the European Union (EU) and aimed to unify the legislation of different countries, a significant advancement for multinational companies that could face legal conflicts. It replaced the Spanish Data Protection Act (LOPD) to make it stricter in terms of how user information is obtained and used.
The primary change that directly affected email marketing was the introduction of explicit, informed, and unequivocal consent. This eliminated the pre-checked box in forms to allow the sending of commercial communications and third-party communications, for example, when downloading a lead magnet. It also required clear and simple explanations of how personal data would be used so that the user could choose whether to give consent or not.
Users now have the right of access, rectification, opposition, erasure, restriction of processing, and data portability. This compels companies to establish internal processes that were not considered before. One of them is designating a data protection officer to oversee data protection, for example, when exchanging data with other providers within or outside the EU.
All these changes brought controversy, and that's why some believe that email marketing is not the same as before. It's true that the relationship with users has changed, but it is still possible to send mass emails to contacts who have given their consent. The GDPR scared those who had filled their databases with dubious practices (many of which are now considered illegal), but others did not see any impact on their results.
How to Comply with the GDPR in Email Marketing
Companies had a couple of years to make changes to their legal texts, privacy policies, as well as to implement internal changes on their websites and forms. The GDPR affects any data collected from users, but we will focus on email addresses for email marketing.
To comply with the GDPR, you must collect explicit consent through your form, with the consent box unchecked so that the user can choose whether to provide it. This was not the case before, and that's why it was easier to fill subscriber lists, but now it is mandatory to be marked voluntarily.
Additionally, you must inform users about the use that will be made of the collected information, so you can include multiple consent checkboxes. For example, a contact form may have one checkbox for users to authorize the use of their data to provide a response and another to confirm if they want to receive commercial information. If you also request their phone number, you must indicate whether it will be used for other purposes.
The right to be informed is also reflected in the concept of "layers of information":
The first layer, located beneath the form, includes a concise explanation of how the data will be used, usually summarized in a sentence.
The second layer contains all the details that cannot be included in the summary, typically linking to a website or a multi-page document.
In the layers, it is necessary to indicate: who is responsible for data processing, the purpose, the legal basis for processing, recipients (especially if data will be transferred to other companies), and the rights users can exercise regarding their data. It's best to consult the legal department for the specific text to use because each company manages different information.
Benefits of Complying with the GDPR
The General Data Protection Regulation is mandatory for all European companies and comes with various fines depending on the severity of the infringement. Perhaps the most direct consequence of compliance is to avoid a fine because failing to comply is considered a legal offense, and any subscriber can report you if they discover malicious use of their data.
The most relevant benefit for email marketing is to ensure the quality of your list. Previously, we only had the option of enabling double opt-in during subscriber sign-up. With the GDPR, an additional layer of confirmation is added, ensuring that all email addresses are valid (unlike single opt-in), and that explicit consent has been given to receive our communications.
Earning user trust is crucial for all levels of a company because it directly impacts the bottom line. If users doubt what will be done with their data or who is really behind the company, we risk losing potential customers who won't want to buy our products. To prevent this, transparency is key, indicating clearly and without fine print what kind of messages users will receive and who the sender is.
Another advantage is enhanced security because companies complying with the GDPR have fewer risks of exposing customer information. Therefore, it can be considered a defense against external vulnerabilities. Having a clear protocol and someone responsible for ensuring compliance makes potential data risks more closely monitored.
When we fill out a newsletter subscription form to receive a discount on our next purchase, we may not pay attention to the fine print. However, it is even more important to protect sensitive personal information, such as tax data or data about minors. The General Data Protection Regulation serves this purpose, from the most basic to the most complex.
That's why we completely dispel the myth that email marketing is dead because of this law. On the contrary, it can continue to thrive due to this regulation, and users can be confident in providing their data to any company because it will be handled in accordance with the law.
Download the ebook "Email Marketing Myths" to learn about other myths you should stop believing.
Do not miss anything from our blog and join our Telegram https://t.me/acrelianews
---
Related posts
Haven't you tried Acrelia News yet?
If you like this post, you will like much more our email marketing tool: professional, easy to use.