Your campaign's preheader exactly just like you want it
Your campaign's preheader exactly just like you want it
Category: Email Marketing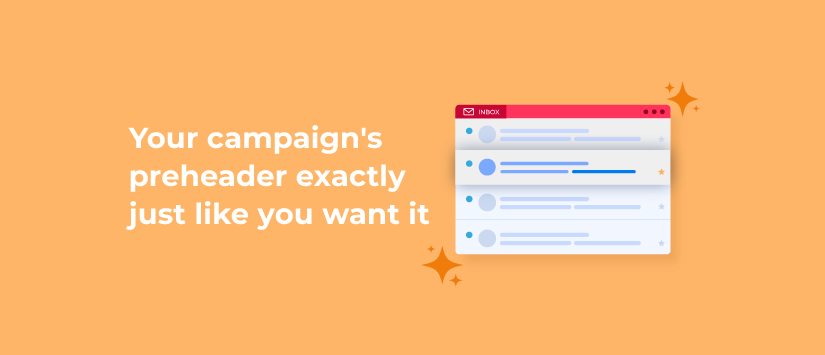 The preheader text is a great ally of email marketing: it's useful to complement the subject line and thus increase the opening rate. But space is limited, at least apparently: users can configure their email clients to see up to 5 lines of text (about 278 characters), so it is necessary to configure it well to take advantage of this space.
Let's start with the basics: by default, the pre-header displays the first few words of the campaign. It's usually something like "View in browser" because it's the preview of the message content. This is clearly a missed opportunity that does nothing to help you stand out in the inbox. To avoid this, just configure your preheader to display the text you want. In the following example you can see two highlighted messages, the first one without a preheader, where a default message appears after the subject and the second one with a pre-configured preheader:

In general, a good length for the subject is 50 characters and about 70 for the preheader. So, even if you personalise the contents, it may happen that some emails you receive end up showing the first words of the campaign behind the preheader. To prevent this from happening in your campaigns, there are several options:
Make it very long so that nothing else can be seen inside the message, which can be counterproductive to gaining impact in the inbox because it may be a cut sentence that is never read in its entirety.
Artificially filling the entire pre-header line with white space using HTML code. This is achieved with the following code:





Trust Acrelia because we automatically apply the above trick so that our customers' mailing show only the words they want.
With our platform, you make sure that what you put in the preheader is what will be seen, nothing more, nothing less. This way, it can be as short and direct as you want because the rest will be empty. What we do in Acrelia is to avoid you having to write blank spaces compulsively so that nothing inside the message is seen.
Visualise an inbox: each line is a message and all senders try to stand out taking up as much space as possible. The result is that there are no blank spaces, it's all text and the occasional emoji. There's not much rest for the eye and no way to guide the eye to the one you've sent to catch the eye. Except if you shorten your preheader in your email campaigns.
Leaving some blank spaces in the inbox is one way to make your email stand out, so it's a good idea not to take up the entire message line with the subject and preheader. You may have seen some messages optimised like this, although they are not yet very common so it's a new way to stand out from other senders.

This blank space will also help you on mobile devices: your message will be visually cleaner than the rest. However, as always, we recommend that you do test mailings to see what the pre-header text line looks like in different browsers. By mixing it with other messages you have in your own email, you can confirm how much it stands out from the rest.
Do not miss anything from our blog and join our Telegram https://t.me/acrelianews
---
Related posts
Haven't you tried Acrelia News yet?
If you like this post, you will like much more our email marketing tool: professional, easy to use.