How to incorporate Social Proof into your campaigns
How to incorporate Social Proof into your campaigns
Category: Email Marketing Trends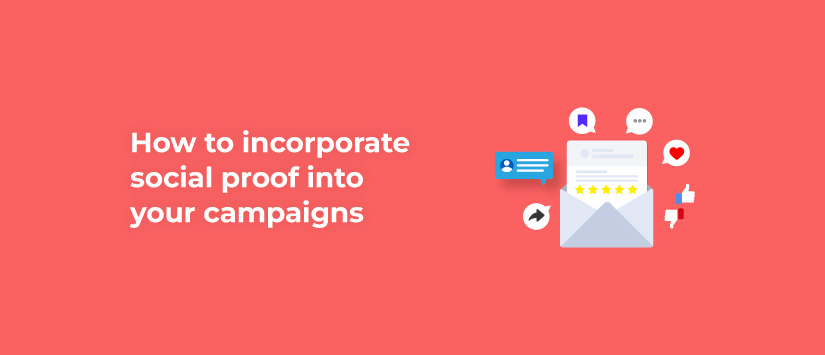 Who hasn't looked at product reviews before pulling out their credit card? Or considered Google Maps stars when deciding where to eat? The opinions of others help us make decisions, even when they come from strangers. It's a psychological element widely used in online stores that you can also leverage in your email marketing campaigns.
What is social proof?
Our social environment influences our actions; it's something that affects us naturally, almost unconsciously. Robert Cialdini named it social proof, and it's a persuasion technique very useful for convincing someone. In essence, social proof involves observing how people around us behave in order to make decisions.
For instance: when we search for videos of a car to see how experts drive it, when we choose a travel destination because someone shows us how much fun they had, or when we select a gift because we're unfamiliar with any brands and seek recommendations.
Social proof is an opinion (or the accumulation of many opinions) given by:
Someone from our closest circle, such as family and friends, who, when we have a problem, tell us about a brand that works well for them, or simply mention it in casual conversation.
A user like us, meaning they've purchased or tried a product or service and leave a comment on a page we consult because we're seeking information about it.
An expert who possesses knowledge or experience in the sector, and whom we follow for that reason, for example on social media, and who speaks about a product or brand, whether paid or unpaid.
An institution that rewards a company or grants it a certificate, perhaps for innovation, a milestone, or sales volume.
These social demonstrations can be harnessed at various points in the customer journey, but first, we need to collect them.
How to acquire social proof for your email marketing
Maintaining good relationships with media outlets or influential individuals in the industry to speak about the brand, whether paid or not, is necessary in some sectors, although not achievable for everyone.
When it comes to gathering mentions for free to utilize in any sales situation, we have several options:
The key to making this collection effective is having an automated system. This way, you'll always have comments to use when needed, rather than scrambling at the last moment.
How to convey your social proof via email
Even before sending a single message, you can already incorporate a touch of social proof in the sign-up form. Just mention the number of people who receive it (or some relevant data) to create a sense of community and encourage new individuals to follow suit. This also works in your email signature: just remember to update the data from time to time.
Once they're on your list, the main reason to want to utilize received comments in your email campaigns is that they cover the entire customer journey:
Contribute to users discovering the brand when someone they know or follow mentions it in a non-sales context.
Provide comparison data with other companies when displaying positive customer satisfaction numbers or sales volumes.
Convince during the purchase decision by attributing traits of trust and authority to products or services.
When planning your communications, you can incorporate your social proof in a section to support your objective or create a specific campaign focused solely on highlighting positive comments. There are many possibilities!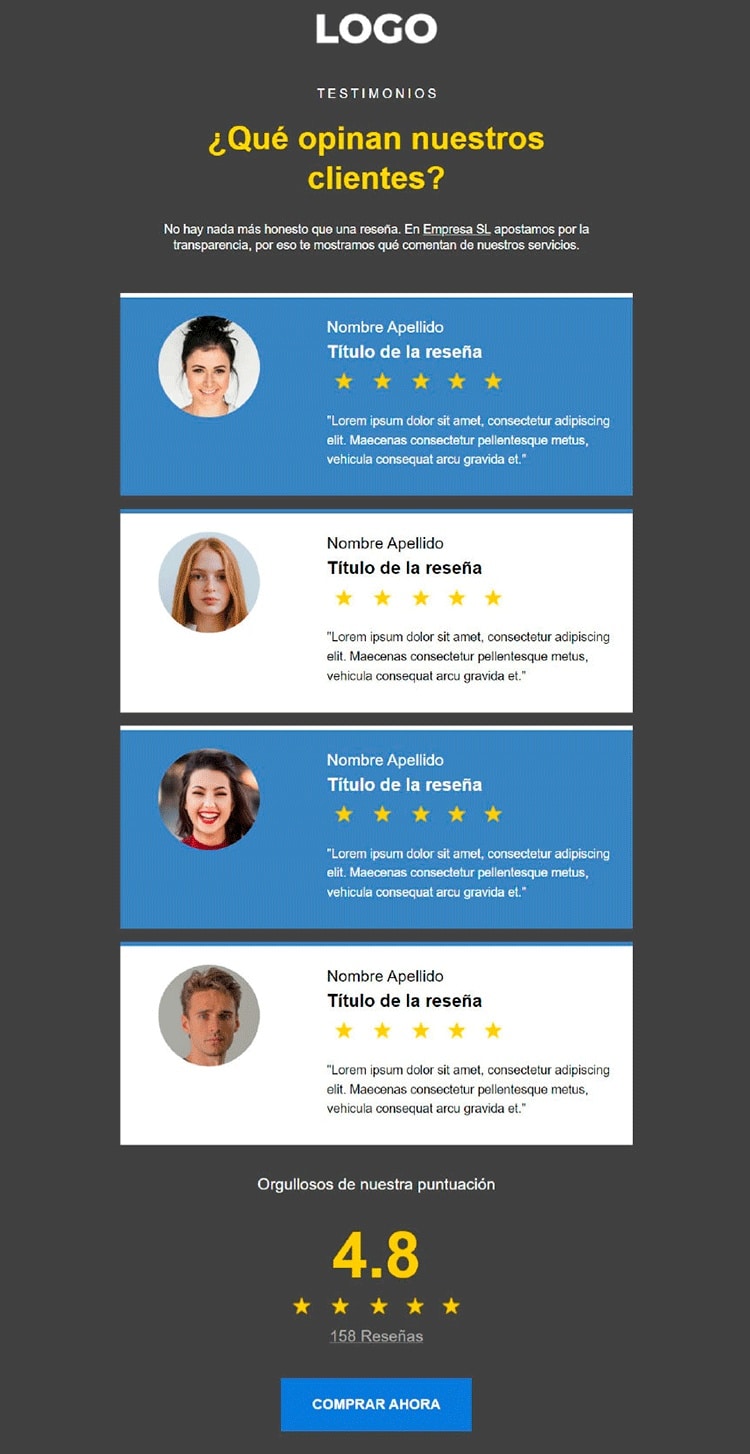 10 types of campaigns that incorporate social proof
Add a social media mention to your product promotion campaign, either matching its look & feel or blending it with your own design.
Create a selection of news articles featuring your company and introduce a section in your newsletter called, for example, "Press Corner." The same applies to user mentions, which could be "Customer Spotlight."
Segment your promotion campaigns based on the ratings a customer has given to suggest products that enhance their experience.
Incorporate messages that support social recommendations, like "XX customers have XXX, also bought XXX" or "XX% of people in your city make weekend purchases."
Consider recommendations as a product feature and display them alongside photographs.
Use case studies as conversion-focused content in the final email of your welcome sequence.
Include the average ratings in the annual summary you send to your customers to keep them convinced that staying subscribed to your services is a good decision.
Show comments from influencers in birthday messages because, even if it's not for congratulating them, they'll be pleased to know they share a connection with your brand.
Pre-announce that your company has been nominated for an award (whether votes are accepted or not) and create a dedicated campaign when you win.
Use the preheader to include a number or rating that supports the subject line promotion, such as a ranking or a percentage.
Do not miss anything from our blog and join our Telegram https://t.me/acrelianews
---
Related posts
Haven't you tried Acrelia News yet?
If you like this post, you will like much more our email marketing tool: professional, easy to use.