How to shorten and monitor links in SMS campaigns
How to shorten and monitor links in SMS campaigns
Category: SMS Marketing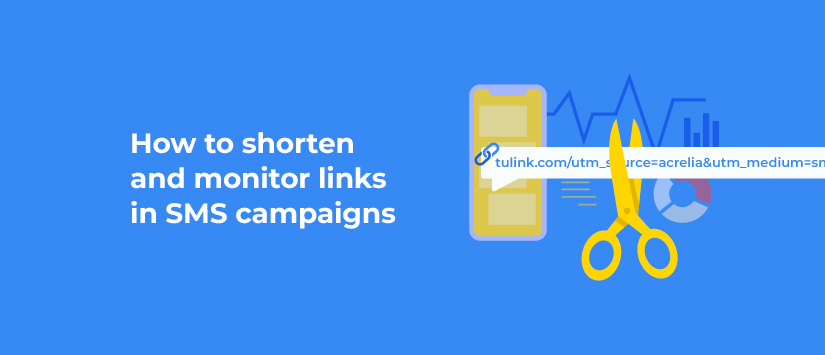 The text in an SMS is limited and, although you can string together a couple of messages, it is best to control the characters in order to use them wisely. Depending on the type of campaign you are sending, including a link is a must, and if you want to take subscribers to an inner page of your website or include parameters to monitor results in Google Analytics, you can quickly run out of space.
The solution to prevent this from happening is to shorten the links, so you keep the possibility of measuring the campaign without exceeding the 160-character limit. All you need to do is tag the URL and use our shortener.
Monitor an SMS message in Google Analytics
Link tagging is very common in marketing because it allows you to know in detail the origin of a view and therefore measure the performance of any campaign. This is of particular interest when it comes to views from ads, sponsorships or A/B tests, but the same process is used to monitor an SMS message.
The parameters that Google Analytics and other measurement tools recognise as campaigns are the UTM codes (from Urchin Tracking Module). By adding them to the end of each link, and without the user noticing the difference, it is possible to identify where they clicked and how their visit to the website progresses (pages viewed, whether they complete the purchase objective, etc.).
An example of a URL with UTM parameters for an SMS message to the mobile phone would be: https://www.yourdomain.com/product/?utm_source=mobile&utm_medium=sms&utm_campaign=launch23
Going into a bit more detail, the most relevant tags are:
utm_source: this is mandatory and serves to identify the source or origin of the traffic. In other campaigns, it could be newsletter or Google.
utm_medium: it is also mandatory, but it identifies the channel from which the campaign is sent. Following the same example, it could be email or CPC.
utm_campaign: it is not mandatory, but we recommend you to include it to group the results with other actions, for example with email marketing campaigns.
If more detail is needed, you can still use utm_term and utm_content to differentiate several links leading to the same URL, for example in A/B tests.
For your measurement tool to correctly identify these parameters, it is important that the link includes them in the right way. For this reason, Google has a URL builder for campaigns that you can use for free to make sure there are no mistakes when you take the next step.
Shortening a link before sending an SMS
Once you have the link tagged, it is possible that it will take up the length of half an SMS or even more! It is impractical to send a message like this because neither the user will trust such a long URL with codes they don't know nor will it help you to count the clicks made directly in the body of the message.
To make it easy for you, within the Acrelia SMS campaign editor you can shorten the links simply by adding the URL and indicating if it is private (for example for the customer area, intranet or any other page that requires authentication). The result is https://asms.com/XXXXX.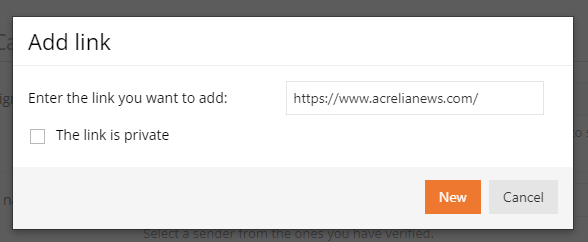 This way, you will save precious space that you can use to include a call to action to encourage them to click or to better explain what they will find if they do so.
Then, just go to your Google Analytics and, in the Acquisition tab, you can identify the visits (and goals) that your SMS campaign has achieved in order to know its performance.
Do not miss anything from our blog and join our Telegram https://t.me/acrelianews
---
Related posts
Haven't you tried Acrelia News yet?
If you like this post, you will like much more our email marketing tool: professional, easy to use.