40 ideas to make your newsletter different with every mailing
40 ideas to make your newsletter different with every mailing
Category: Email Marketing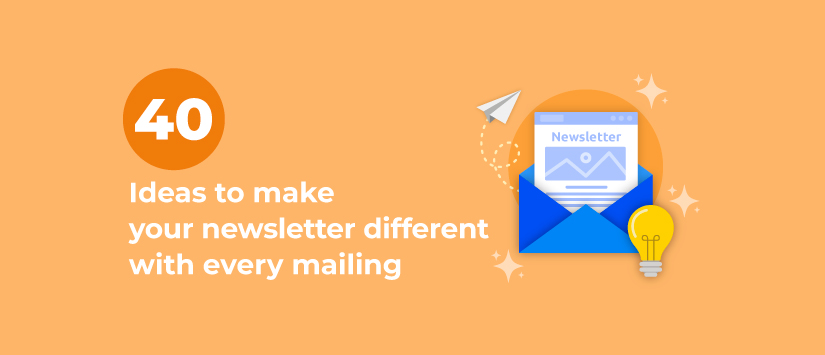 Preparing a weekly or even monthly newsletter can be difficult when inspiration is not on your side. Structuring it into different sections is one way to make it easier to find the information to fill it, although doing thematic monographs can help to break the routine.
Whatever your newsletter is, we have compiled the most interesting ideas so that your messages are always different. Take note for your next mailing!
Changes in the service: whether small or large, if they affect customers, you have to tell them about those changes so that they are always informed and up to date with any adjustments that may affect what they have contracted.



Font: Really Good Emails

Product milestones: what have you achieved this month or quarter? Present it to them as a celebration, reminding them of the road travelled and what is to come.



Font: Really Good Emails

Downloads: everyone likes to be given something, especially when you don't have to do anything in return. Preparing something simple, such as a background for devices or an activity for children, can give your stats a boost.

Resources: these can be your own or from other sources, such as guides or templates. Keep in mind that free ones tend to work better, although a good mix can also bring you some profit as an affiliate.

Tools: a list of recommendations that complement the product or service itself can be the beginning of a cobranding relationship, as well as being useful for subscribers.

Videos: think about tutorials or DIY to segment according to your contacts' purchases. In addition, many of the ideas on this list can be prepared in video format, not everything has to be text.

Infographics: this is a visual way of telling a story, explaining data or showing processes. They also serve as a summary, so you can send them so that clients and potential clients can see everything you do for them.

Success stories: what can I do for you that we have already done for others? The answer lies in a representative case of your services with a testimonial sentence of what has been achieved thanks to your services.

UGC: sharing what other clients say about the brand is a good way to gain reputation and, depending on the type of content, it can also serve as inspiration or examples of use.

Press clipping: are they talking about you in the media? Tell them about it by making a short summary of why your company appears and link the article so they can read it and share it among their contacts.

Hacks: tricks that few people know about can get a lot of attention, even go viral and make sales. They have to be really unexpected and, above all, very useful.



Font: Really Good Emails

Teasers: new products can be treated as simple news and sent out or generate a certain amount of anticipation beforehand, by dosing the information or with a countdown that ends with a launch.



Font: Really Good Emails

Making off: telling the inside story of the creation process is interesting both for already known products and for new ones that are being developed. A monthly review, for example, can make for a good story.

Exclusives: one of the reasons to sign up for a newsletter is to receive scoops that no one else has. These can be launches, tips and tricks or discounts that are only available to customers.

Apps: either because you have one or because you recommend one of your suppliers, you can make a video or animated GIF review to show its design or a functionality that is new.



Font: Really Good Emails

Trends: this is usually content for the turn of the year, but you can anticipate it beforehand by explaining the clues that you come across, almost as if it were a teaser.

Discounts: there is nothing better to sell, they are a great incentive and all online shops send them regularly. Precisely for this reason, try to make them interesting by making a good segmentation.

Good practices: in every sector there are approaches that succeed and others that cause mistakes. Choosing which ones to count on is a way of distinguishing yourself from the rest and standing out from the competition as an expert.

Lists: selecting the best of something can be applied to many ideas, including this list. A ranking is also a way to make the company's positioning clear.

Surveys: asking for feedback on the product or the newsletter itself shows that the company is interested in what its customers think. This can be done shortly after purchase or subscription.

Quotes: it is important to choose them well so that they follow the values of the brand, for example humorous or motivational, as appropriate. They can also be promotional if they are quotes from customers.

Reports: there are many published each year in all sectors, some better known than others. A summary or selection of data can be used to demonstrate the company's expertise, even if it is not your own.

Usage statistics: showing the user everything that has been achieved or carried out in a year, for example, is a way of building loyalty that is rarely used, but which works very well in infographics.

Loyalty programme: explaining what it consists of is only the first step, you have to maintain a certain frequency to inform them of their status and how to improve it and get more points or discounts.



Font: Really Good Emails

FAQ: customer service can help to create a series of newsletters with the most common questions and the corresponding solutions. The approach can be fun or educational, depending on the brand.

Trainings: whether your company organises courses or webinars, or you comment on other training sessions, these are opportunities to show that you are up to date with what is happening in your area.

Diary: reminders of important dates, including those not related to your company, can be useful in any industry, such as events or international days.



Font: Really Good Emails

Social updates: send a representative selection of what you post, for example every 15 days. Explaining what you do on other channels will help you drive traffic and gain followers.

Guest post: there are many benefits to blogging on other people's blogs, including the opportunity to tell subscribers about it. This enhances the brand's image as an industry expert.

Departments: show how your company works by presenting the different areas and teams, as well as the most visible people in them with photos, profiles or hobbies.

Team content: it is possible that some employees are active on personal channels and, by sharing their pieces, you show their interest and confirm to subscribers that they are in good hands.

Job offers: this shows that you are growing and, you never know, maybe the perfect candidate is someone who signed up to your newsletter hoping for just such an opportunity. Or a friend of a friend.

Interviews: the exchange of opinions is always interesting. It can be with someone from the sector, someone from outside or from within the company, as long as they have something to contribute or inspire you.



Font: Really Good Emails

Tribune for the CEO: they tend to speak out when there is a problem or crisis, but they can also come out from time to time to give their point of view on the sector or the future of the company.

Open letter: they are used to criticise, denounce or simply warn that something is not working and recommend a change in attitude or behaviour. They usually generate controversy and many shares.

Anniversaries: just like a subscriber's birthday, important company dates can also be celebrated. Take the opportunity to take stock of what has been achieved or give a gift to customers.



Font: Really Good Emails

Company history: whether a company is a hundred years old or a newcomer, there are defining moments that potential customers should know about. It also serves to think together about the future.

Awards: this moment of joy for the team can also be a moment of joy for those who have bought your products because it confirms that they have made the right choice, or a cross-selling opportunity for those who have not yet done so.

Shops or offices: whether you open one online, a pop-up store or a new office, your customers are the first to want to know where they can find your products or be served in person.

Thank you: not only when they buy or attend an event, it is also possible to thank them for their loyalty after some time has passed, for example 1 year after registering for your newsletter.


Font: Really Good Emails
Do not miss anything from our blog and join our Telegram https://t.me/acrelianews
---
Related posts
Haven't you tried Acrelia News yet?
If you like this post, you will like much more our email marketing tool: professional, easy to use.