How to take advantage of video in your email marketing
How to take advantage of video in your email marketing
Category: Email Marketing Trends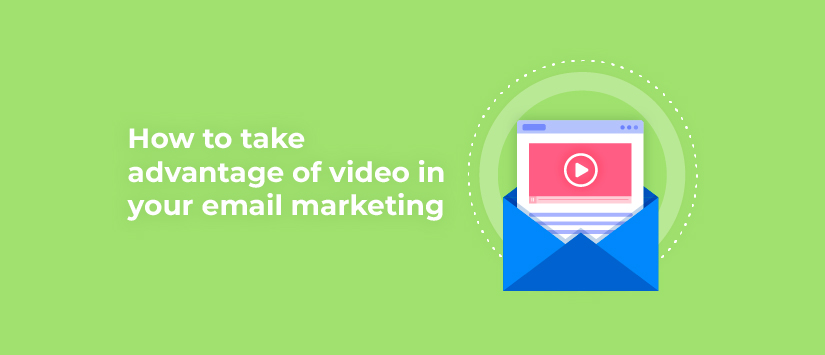 Audiovisual formats are highly present on social networks. Likely, you have already published a video on them, but you have not wanted to send it to your subscribers' inboxes because you think it does not fit well in an email marketing strategy or perhaps for fear that email clients would reject it and affect your deliverability.
Don't be afraid: if subscribers can open your message from their mobile, they can also watch your video from their device. In today's post, we will give you examples of campaigns that take advantage of it so that you can see that it has a place and it gives good results.

How to use video in your email marketing campaigns
There are many ways to do video marketing. The first thing to consider is whether you want it to be the core of the message or just complementary, that is, if you will drive traffic to your page or if you want to insert videos from an external service such as YouTube or Vimeo. The theme of the video (and of the campaign) will be key to choosing one or the other option and ensuring a good conversion rate.
Videos are perfect for showcasing the highlights of an event, both online and offline. Such a campaign can be used to encourage those who attended to share their experiences on social media or simply as a thank you for attending.
Sending such an email motivates those who want to repeat to sign up for the next edition and those who missed out and want another chance.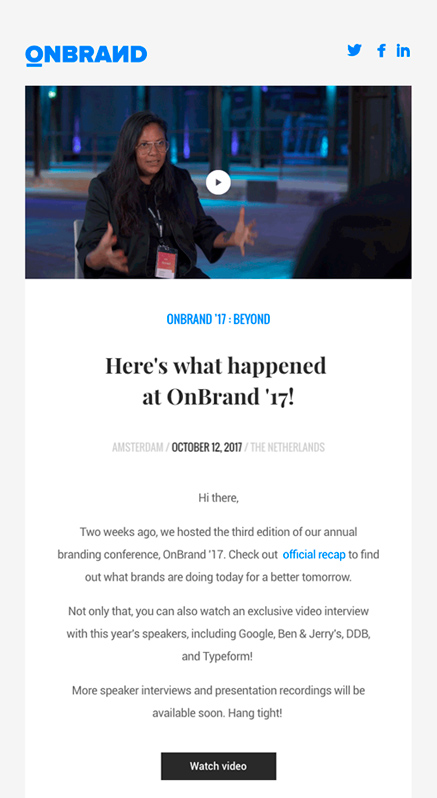 Including videos also works very well to summarise the new features of a service or the novelties of a product. This way, subscribers get a good first impression of what they can get. To do this, be sure to include attention-grabbing details of use, for example, people in real-life situations (a more emotional approach). This way you take advantage of the fact that video is quicker and easier than reading a long text and you can take them to a technical specification sheet if they want more details (more rational).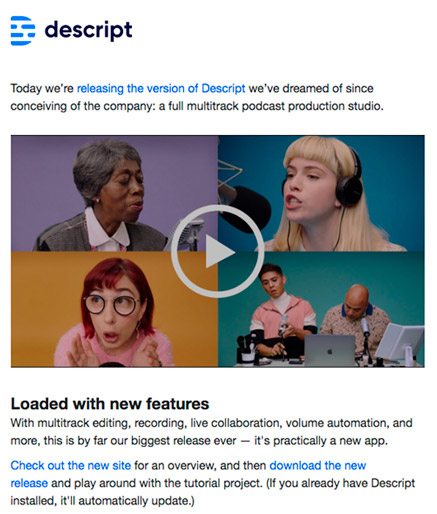 For these situations, a quality video can provide value in different ways: a step-by-step tutorial, a demonstration, the announcement of a training event... In all of them, you should add a good call to action to take subscribers to a landing page to add a transcript, additional information or the registration form.
Keep in mind that videos can capture as many leads as a PDF guide, as long as the user perceives value and does not consider it as something they would easily find on YouTube.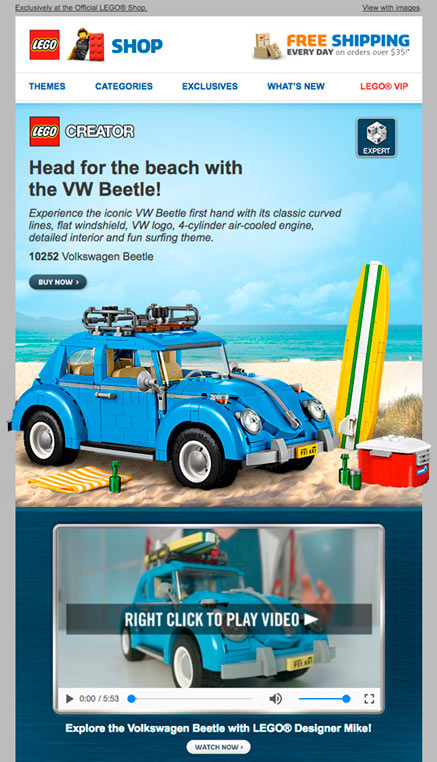 It can also be interesting to make a video that collects the actions carried out in a specific period, for example during the lockdown, to show that the company cared about its customers and continues to do so. Another option is to make a summary of the year in the form of interviews with employees. Unlike the previous ones, the objective is to approach subscribers in a non-commercial way and it is not necessary to create a landing page specifically for this purpose.
In this case, we recommend that your video marketing includes several pieces of this type per year, as they contribute positively to your reputation.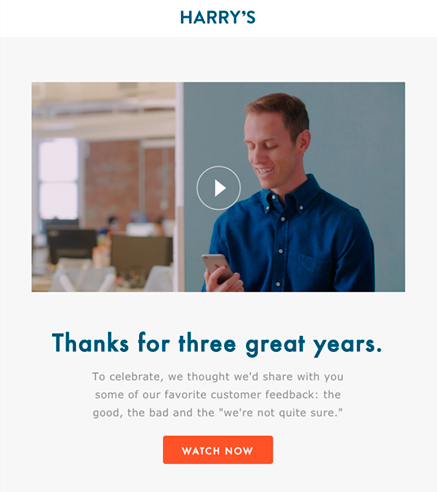 The same approach would be valid in the case of sending a celebratory or congratulatory message, for example, to inaugurate the summer season, a special day or the Christmas holidays. The newsletter then becomes more relatable, even more so if you personalise the text with dynamic content.
To achieve this effect, involve your staff so that it is more easily shared by all of them and also by your customers. It's all about generating impact and the most direct way is to raise a smile with an empathetic message launched by the team.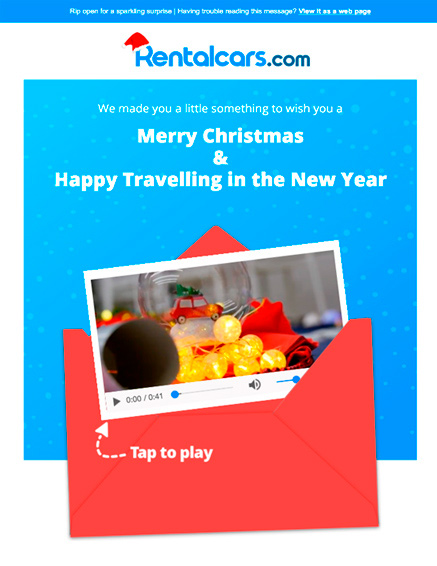 Finally, when you are going to upload your video to your email marketing tool to send it in your newsletter, remember:
Create a strategy that uses video in email and other media, such as SMS or blog. Nowadays, it is a format that adapts well in all channels, so you can get a better ROI from it if you combine it properly.
Use the word "Video" in the subject line to draw attention to the content. Although more and more companies are using it, they don't always emphasise it. You can also use a camera emoji to make it even more obvious.
Balance the volume of text against the video so that they are not distracted and focus their attention on what is important. The inverted pyramid can be useful because, even if the video is watched faster than the text, you should also include an accompanying message to encourage viewing.
Customise the thumbnail to show a representative static image or an animated GIF to motivate the click to watch it. The CTR increases whenever there is a video, you can check it with your statistics.
Add social buttons to share the video on social networks and gain visibility outside the email manager. This starts the chain of virality and leads to recommendations.
Video can be a great ally of your email marketing: don't use it only for your social networks!
Do not miss anything from our blog and join our Telegram https://t.me/acrelianews
---
Related posts
Haven't you tried Acrelia News yet?
If you like this post, you will like much more our email marketing tool: professional, easy to use.