Ideas and good practices to add videos to your email marketing
Ideas and good practices to add videos to your email marketing
Category: Email Marketing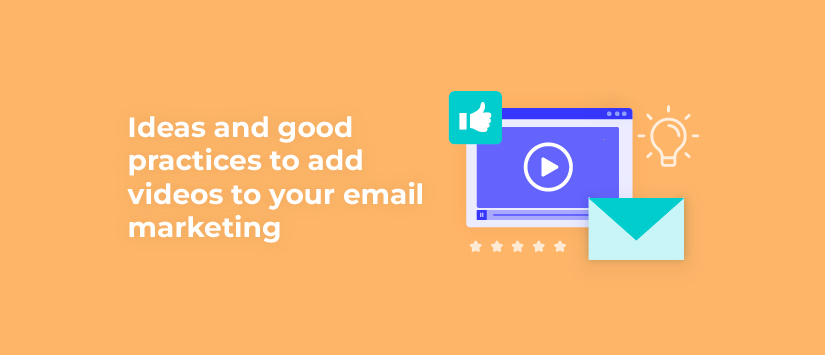 Video is the star format of social networks, it increases all interaction statistics. Using it is a trend, also in email marketing. Including a video in your newsletters is synonymous with getting more openings and clicks. Visuals are engaging and taking advantage of them is within your reach because it is very easy to insert them into your mailings to tell an attractive story.
Some video marketing ideas to apply in your mailings:
Demonstrations or tutorials on how your product works.
Informative pills in which you explain something new in your sector.
Testimonials from clients who tell in the first person how you have helped them.
A summary of an event you have organised or attended.
Important company news communicated by the person in charge.
The first good practice for your video for email marketing is to pay attention to the length: they should not be very long pieces if you do not want to get the opposite effect and get people tired of them. They should be under 5 minutes, with 2 minutes being a good reference to make sure you concentrate the information enough for them to watch it in its entirety. That's why the first few seconds are key: they have to grab attention by encouraging them to watch it with a small hook.
We recommend that you combine video mailings with other formats. This way they will be more attractive because they will be more unique. Adding the word "Video" in the subject line will increase your open rate. But if you exploit it too much and the subscriber always expects one, it will end up being a little differentiating (plus you will have to generate content more frequently).
For example, a video to promote a product or service offer can be included in several mailings and also on social networks, but it will have better results if you make only one exclusive video because it will be much more differential and will attract more attention.
Videos can be viewed in two different ways depending on the configuration of your subscribers' email clients (Gmail, Outlook...): embedded so that they can play and watch them directly or with an image that, when they click on it, takes them to YouTube (or wherever it is hosted). For this reason, the CTR is also higher in mailings that include a video.
If you don't want to, you don't need to include a "Watch the video" button: the Acrelia News editor makes it easy to insert it. You just have to insert the URL of the video and choose the image you want the user to see to encourage him to play it, if you want you can also put a triangle simulating the play button. Don't worry about anything else: we take care of displaying it in the best way for your potential customers to see it correctly.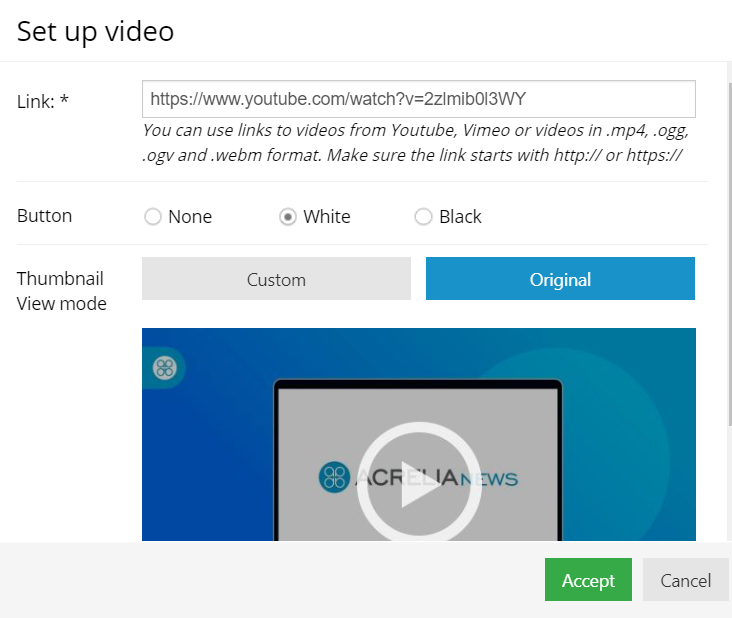 After a few days, with the information of who has seen the video, you can create a new personalised mailing for them and thus complement the information you have given them. For example: if the video is an interview with a well-known person in the sector, create a campaign to explain more details about what was not seen when it was recorded or what was left out due to lack of time.
You can also do the opposite and segment the mailing so that those who didn't see the video take away the main ideas in a summary. Choosing who deserves to be impacted is a great way to get more opens and clicks and therefore more conversions in your marketing strategy.
Our last recommendation for your video email has to do with social media: don't forget to also share the piece on your channels so that your entire community has access to the information, especially if it is an important announcement. Another option is to use the video to prioritise your subscribers to thank them for being subscribers (it's a way to get satisfied customers) and motivate your followers to take the step to become subscribers.
Do not miss anything from our blog and join our Telegram https://t.me/acrelianews
---
Related posts
Haven't you tried Acrelia News yet?
If you like this post, you will like much more our email marketing tool: professional, easy to use.