Myth 3: Email marketing is for others sectors
Myth 3: Email marketing is for others sectors
Category: Email Marketing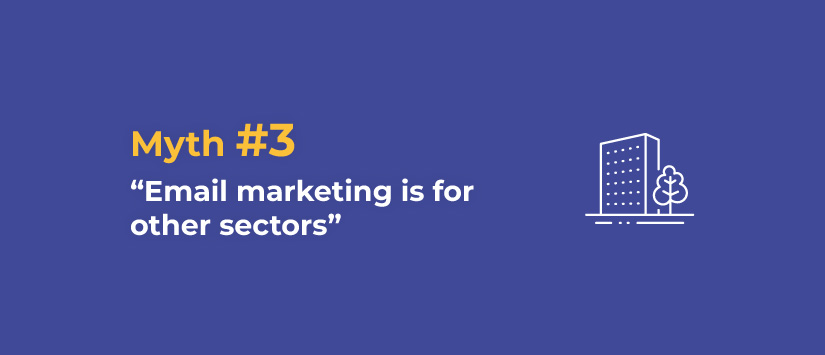 Knowing other sectors is a good practice to identify what can be useful to us, but it should not be a barrier to getting started. When someone believes that email marketing serves other sectors and not their own, they may have looked at examples, but from a tactical perspective rather than a strategic one. Looking at it, you can see that this myth is false: email marketing offers many possibilities to all sectors!
Email Marketing for Industrial Companies
Let's start with what is probably considered the most challenging sector, usually due to heavy regulations regarding what can be communicated. However, it is possible to use email marketing to promote advances in innovation. Industries are the driving force of a country's economy, and it is necessary to highlight their contribution to society.
A corporate newsletter can be used to communicate results both externally and internally, maintaining employee engagement with the company's mission.

Email Marketing for Start-up Companies
When starting a start-up, this myth often blends with others, such as the need for a large email list or substantial investment. In reality, it's quite the opposite because using email marketing is possible from the moment you create a website, i.e., from the moment you begin to introduce your brand. Or even earlier if you only have a landing page to collect contacts of interested individuals and keep them updated with the company's progress until you start selling the product or service. Then, a discounted offer will reward their patience and help kickstart sales.

Email Marketing in the Education Sector
The content will vary depending on the students' age and the course's topic, but the objectives are likely to coincide, whether it's a daycare center or a language school. Acquiring new students, converting them, and retaining them are the most common goals, and email marketing demonstrates its value in all these cases.
Campaigns can be sent at any time, both before and after the course, to inform about enrollment dates and the subsequent certificate collection, as well as to maintain contact for the next edition. Moreover, in the education sector, it is common to have to fill out a form to request more information, something that can be extrapolated to other areas not directly related to this.

Email Marketing in the Automotive Sector
A car dealership doesn't sell cars at the same rate a clothing store sells shirts, but they can be promoted in a similar way, demonstrating that very different sectors, such as automotive and fashion, have something in common: sending email content that might interest their contact lists.
For example, an auto repair shop can announce to its customers when it will be closed for vacations, send holiday greetings, or notify when their car is ready for pickup. They can also send an informative newsletter with the latest in motor sports or updates on traffic regulations.

Email Marketing for Logistics
The logistics sector is very different when it comes to courier services or moving large containers between countries. Perhaps this is where the myth that "it's not for me" comes from because it's not approached correctly. In B2C, it translates to transactional email marketing, meaning notifications of where the package is from the moment the order is processed until it's delivered. Real-time tracking is key.
However, for B2B, it's a longer-term perspective because the company's reputation is more important than purely functional issues. Therefore, a newsletter can be created to inform about company updates and, in general, the freight transportation sector.
Email Marketing for Cultural Organizations
A concert, a theater performance, a lecture on a new book release... the cultural sector always has a date to structure email marketing actions around. From this perspective, it operates with advance notices to generate interest and launches, as well as last-minute offers and follow-up emails to get recommendations to fill future performances.
Events serve many sectors, not just the cultural one. For example: a press presentation of the new board of directors, the announcement of a sponsored conference, the awards ceremony for a competition, a trade fair to attend, the annual shareholder meeting, etc.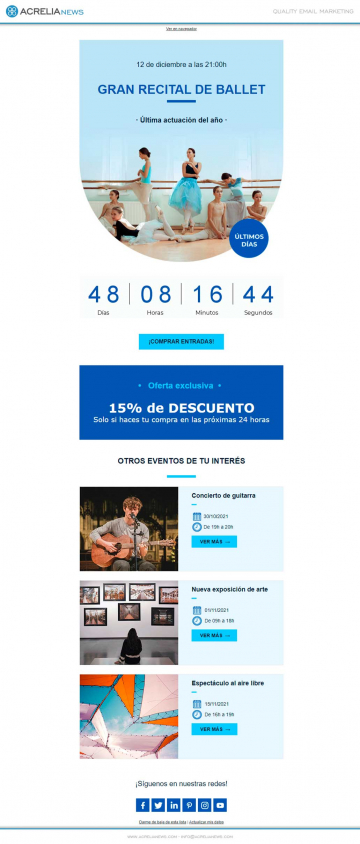 Email Marketing for Tourism and Hospitality
Travel agencies are an example of a seasonal service. During certain times of the year, they are swamped with work and don't have time to send emails to their databases. In the low season, there are other types of trips that can be incentivized, and it's important to stay in contact with customers to make them appreciate the service received, for example, with a newsletter featuring photos to keep them eager to travel at any time of the year.
On the other hand, restaurants and hotels also have a contact list to continue building relationships after customers have paid their bills. It's not always about direct sales; email marketing also serves long-term purposes.

Email Marketing for the Nonprofit Sector
These kinds of organizations, which usually don't sell anything directly and depend on donations and contributions from members, can also use email to keep them informed and engaged. It's more about transparency than a commercial exercise, but the ultimate goal is summed up in one word: trust. Reputation is key, just like in other sectors.
There are moments of mobilization for emergency response campaigns that can't be planned, but there are also calls to collaborate to bring about change and explanations about how the received money is used. A business that wants to show concern for climate change or its corporate social responsibility (CSR) can do the same.

Email Marketing for Public and Private Institutions
Relations with the public also involve trust, transparency, and reputation, but their communications also include events, both in-person and webinars, for example, in the case of private libraries and public civic centers.
Any institution or foundation can develop a strategy that treats users as customers without the need to send more aggressive sales campaigns, as would be done in other sectors. The mistake (and perhaps the origin of the myth) is in misusing the strategy. In this sector, what is demonstrated is the reputation, for example, with a monthly informative newsletter that explains the contribution to society.

Email Marketing for Consumer Goods
We saved for last the sector that is often considered easier to prove that many previous proposals also apply to retail or online sales. When it comes to high-demand products, such as toys, clothing, cosmetics, or even appliances, the competition can be fierce.
Email marketing works in the short term to announce promotions or events that can result in a sales peak, but also in the long term, building loyalty and encouraging cross-selling. These actions achieve good results in this sector and many others that we have seen.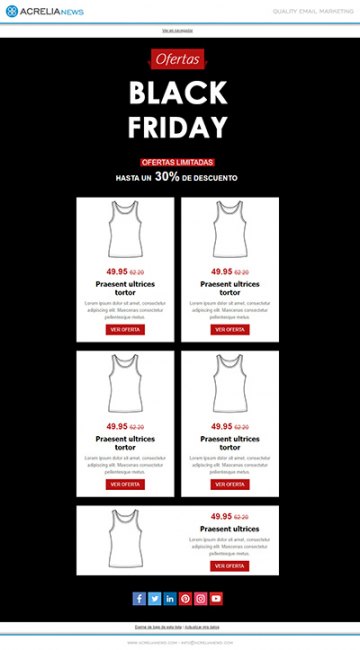 Download the ebook "Email Marketing Myths" to learn about others that you should stop believing.
Do not miss anything from our blog and join our Telegram https://t.me/acrelianews
---
Related posts
Haven't you tried Acrelia News yet?
If you like this post, you will like much more our email marketing tool: professional, easy to use.