Why adding automatic unsubscribes is a good idea
Why adding automatic unsubscribes is a good idea
Category: Email Marketing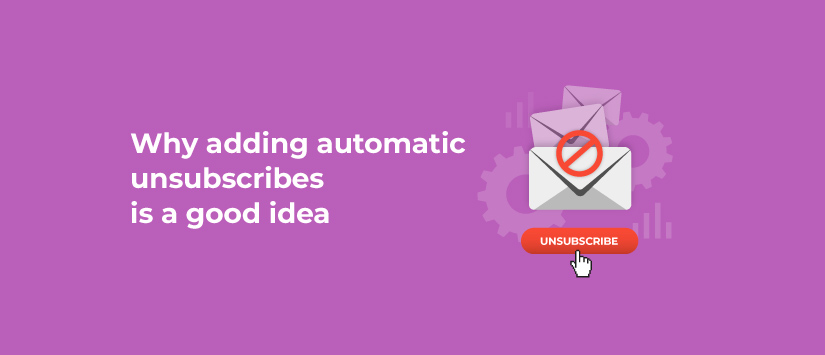 Automating is a way to save time but also to provide a good service. The agility of response usually leaves a positive impression on the user. Even when it comes to unsubscribing from our list, we must respond to the request quickly. Therefore, it is advisable to add the List-Unsubscribe tag in your newsletter or let Acrelia do it for you automatically.
How the List-Unsubscribe tag works
The easiest option to unsubscribe is to go to the link that is usually at the bottom of the mailings, but it is not the only one. The most commonly used email clients read the message header and, when they find the List-Unsubscribe tag, they display a message next to the sender to "Unsubscribe" from that list.
It is possible to specify the response we want to give to anyone who clicks this tag, either to redirect them to the page where the unsubscribe form is located or to send an email and have the email platform handle it.
The code would be, respectively:
List-Unsubscribe: http://tudominio.com/baja/?listname=nombre?id=XX
List-Unsubscribe: mailto:bajas@tudominio.com?subject=unsubscribe
It is only possible to add one of these two options, so when writing this command, keep in mind that Gmail, Yahoo!, iOS Mail and Outlook behave differently when someone clicks on "Unsubscribe": Google's is the only one that allows direct unsubscription and redirection, while the others only support the mail form as an action. In both cases, it is handled automatically and you don't have to do anything.
What are the benefits of using this tag?
In general, proper unsubscribe management is beneficial to your email marketing strategy, and the possibility of using this tag adds a few more:
It keeps the sender's reputation intact or, at least, does not deteriorate it.
It reduces the chances of being marked as spam because it is displayed as an option in the email manager.
It Simplifies unsubscribing for the user, especially when it is handled as straightforward and without additional questions.
Eliminates unwanted profiles that worsen statistics by having low engagement.
Ensures good deliverability for the rest of the list.
Provides a good user experience because the user does not have to go all the way to the bottom of the message.
Keep in mind that the fact that this notice appears does not imply that the link to the unsubscribe form should be removed, nor that the number of people who want to stop receiving communications will increase. It is only to make it easier for those who wish to opt-out.
How to insert the List-Unsubscribe tag
The first thing to do is to confirm if you are already using it or not. To do this, open one of your campaigns in your email manager (preferably a real one and not a test one because sometimes it is not inserted in tests). Check the source code of the message (for example, on Gmail you can find it in the "Show Original" menu) and look for that label in the header.
If you discover that it is not there, you will need to make sure you have configured your mail server correctly by adding some parameters so that it recognises the List-Unsubscribe tag when it receives it.
If you use a mailing platform like Acrelia, you don't have to worry about anything because we do it automatically for you. So, you just have to create the best possible campaigns so they don't want to unsubscribe.
Do not miss anything from our blog and join our Telegram https://t.me/acrelianews
---
Related posts
Haven't you tried Acrelia News yet?
If you like this post, you will like much more our email marketing tool: professional, easy to use.