Email campaigns to succeed this summer
Email campaigns to succeed this summer
Category: Email Marketing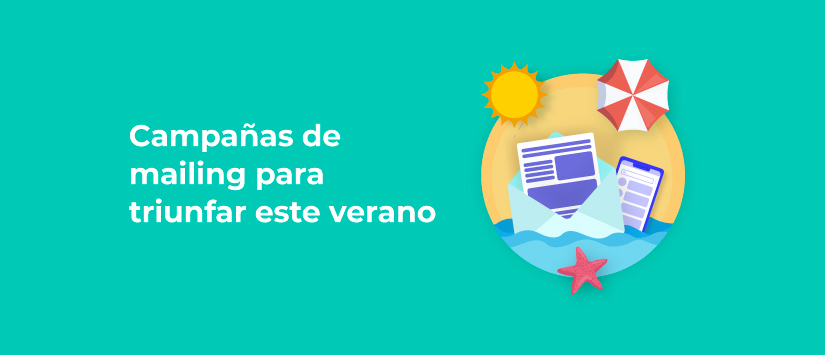 If you have sent out a campaign during July, you may have noticed a slight decrease in opens in your mailings and you will have received the 'Out of the office' typical message. So the question you should be asking yourself right now is what to send during August so your stats do not go down too much. In today's post we give you some fresh ideas for your email campaigns to succeed.
The first and most important is a matter of form. During the summer, it is more imperative than ever to use a design suitable for mobile phones and tablets: make sure your template is responsive or, better yet, prepare a special template with a summery touch. For example, you can add a Radiant Sun to the newsletter's header or photograph your products as if they were on a paradisiac beach.
Looking for the difference in summer also happens to take your most ingenious side. Maybe you can find content a little more informal than usual, not as serious as your subscribers are used to. If you have a real estate agency, for example, you can send information from famous houses instead of the list of new flats in the area that, considering it is August, will not be very long either. Writing the campaign as a humorous mailing, sure you'll get their attention!
Although there is another keyword that will make your messages succeed: sales. We are in the season of discounts, offers and promotions of all kinds. Reward those who are waiting for your mailings with some surprise that encourages them to open the email and buy. It can be free shipping or a gift for the next purchase, but also a reward if they convert a friend into a customer.
It is precisely in the summer when social networks are in full swing. Take advantage of the need to share their vacation so that they can help you to announce your more relaxed products or articles. Surely by sending the same old messages you will not get the same results because the subscribers have other priorities. Try to visualize how your campaign would be between photographs of beaches or, in other words, why would they want to share it in their profiles?
Combining all we have proposed, the ultimate mailing campaign to succeed this summer would be the one that encourages your subscribers to share some informal content on social networks to get some discount. Of course, they could do it from their mobile and in a single click. All very easy, visual and attractive.
It may sound strange and far from what you normally send but think that summer is a good time to experiment with your database. You can see it as an opportunity to try something because, if it goes wrong, it will not affect all users but only those who are not disconnected for vacations.
Do not miss anything from our blog and join our Telegram https://t.me/acrelianews
---
Related posts
Haven't you tried Acrelia News yet?
If you like this post, you will like much more our email marketing tool: professional, easy to use.