How to use whitelists in your email marketing
How to use whitelists in your email marketing
Category: Email Marketing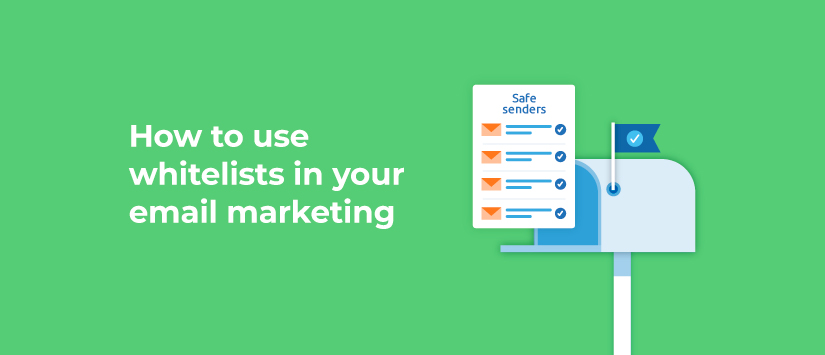 The distinction between "good" and "bad" senders is translated into whitelists and blacklists. This works both in telephony when future calls from a number are blocked from the mobile phone, as well as in email marketing. In this case, whitelists are created by the direct action of the user who indicates who he trusts, so they affect deliverability and also the performance of the database.
What are whitelists?
These are a series of IP addresses, email addresses or domains that have been previously validated so that they are considered safe senders and their messages pass freely through the spam filters to always go to the inbox. This ensures you have a better chance of being read and that key campaigns in your email marketing strategy don't get lost in the spam folder.
Another benefit of being in the contact list of potential customers is that the statistics will be more reliable and we will be able to measure the results better because the messages will have higher deliverability. This also has an impact on the ROI of the database by having more openings.
The opposite of whitelists are blacklists: being on a blacklist means that you are considered a dangerous sender, either as a spammer or for having sent an attachment with a virus. Unlike whitelists, which are individual, blacklists can be public and are created by mail providers with various sources of information, including information received from users, such as complaints or sender blockings.
How to be on a user's whitelist?
There is no better way to be whitelisted than to ask the user to mark our sender or domain name as safe in order to notify the mail manager. They all have this functionality, although they call it slightly differently. Therefore, in addition to asking the users to do so, we can help them to add us to their list of trusted addresses by showing them the steps they need to take, for example on a page associated with the registration form.
The options in the most popular email managers are:
Gmail: drag the email from the Promotions tab to the Main tab and reply in the confirmation to always do so. It is also possible to create a filter in the configuration so that all messages from that sender are never marked as spam.
Outlook: in the message header, next to the image download option, there is the option to add the sender or their entire domain to the safe list and also to confirm to always show their content.
Apple Mail: both senders added to contacts and VIPs are considered safe and are on the whitelist.
A complementary way to leverage your digital marketing is to use social media to occasionally post a reminder asking your subscribers to add you to their trusted list and linking to directions to guide them.
When to ask the user to add us to their whitelist?
It is best to be on a safe list from the first communication to start building a relationship of trust with the recipient. Remember to send emails from a name and email address that is easy to recognise, not a general one focused on commercial campaigns or one that indicates that you don't want them to respond to you.
The best time to ask them to add our address to their whitelist is in the welcome message or in the registration confirmation. This is when the subscriber is more willing because they are waiting for that communication, although they certainly haven't received anything yet to be sure that they are trustworthy. So this is also the time to remind them of the benefits of being a trusted subscriber and that they can unsubscribe at any time.
As there is no way of knowing whether or not they have listened to us, it is possible to add more or less subtle reminders to take this action in the footer of the newsletter. You can also take advantage of some key email marketing campaigns that have a higher rate of openings, such as the renewal of a service or the tracking of a package because that's when they don't want to miss out future deliveries.
Do not miss anything from our blog and join our Telegram https://t.me/acrelianews
---
Related posts
Haven't you tried Acrelia News yet?
If you like this post, you will like much more our email marketing tool: professional, easy to use.