Mobilise your email marketing with QR codes
Mobilise your email marketing with QR codes
Category: Email Marketing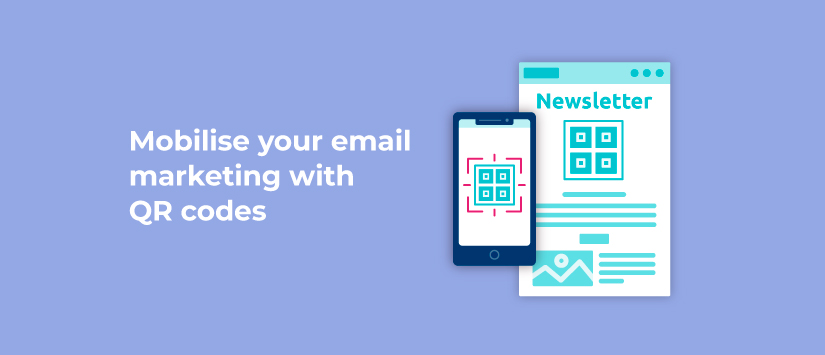 The use of QR codes is not new, but they have made a strong comeback in the wake of the pandemic: you only need a mobile phone camera to scan them and thus gain access effectively and quickly to any information that the company wants to share, whether text, web or contact details.
They are an evolution of the barcode and have many applications for email marketing because they enrich the possibilities of interaction in different types of campaigns. To give you an idea of how you can use QR codes in newsletters, the three most used cases among our clients are:
Sharing discount coupons redeemable in-store: sellers only have to scan the QR code, giving better service because queues are speeded up.





Providing access to events or special promotions: linking them to the PDF with the information or to the registration page simplifies the options for access control as well.





Sharing contact details: very practical so that email marketing campaigns don't just stay in the mailbox, but also go to the customer's address book.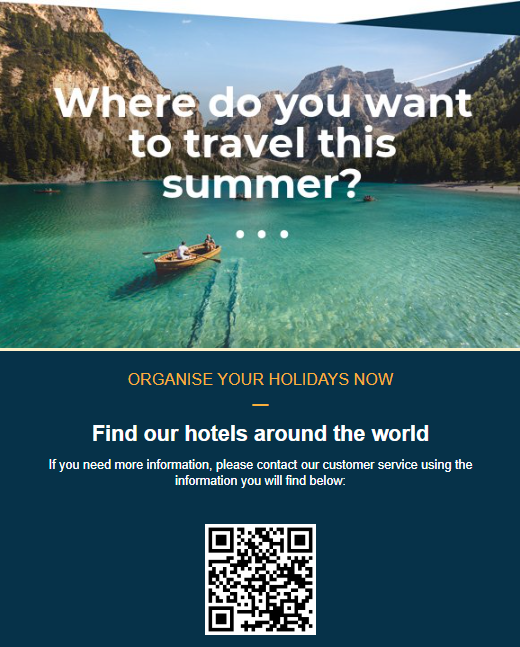 Before continuing, we clarify that it is not about replacing the links with these codes, only to enhance some of them so that the subscriber can easily access at any time to information they will need.
Uses of a QR code for your email marketing
Although the above options are the most popular, there are many others if we look more specifically at the types of QR codes:
URL: you can use them to redirect users to a website with a special promotion, your Facebook page, a contest on Instagram, a tutorial on YouTube, a satisfaction survey, your location on Google Maps, the download of an app...
SMS: it will be very useful in your SMS marketing campaigns (user registration, contests, offers, donations...). By scanning the code, the text of the message and the destination phone number will be filled in automatically and the user will only have to press "send".
vCard: a simple way for you to share your contact details such as email or office address, corporate website, social media profiles... Users can add them with a single click to their mobile phone's address book or their email manager's address book. The best place to add them is as a signature to your message, even in non-bulk communications.
Telephone: this way, users can contact you by phone with just one click. It is very practical in customer services, for example if you include them in transactional emails or welcome messages to your list.
Text: QRs of this type are very useful for sending discount codes or coupons that your subscribers can redeem in-store. This way, they keep it on their mobile devices unchanged and without the possibility of error.
On the other hand, QR codes are fantastic tools to increase your subscriber list because you can include them in paper materials, such as purchase tickets, flyers or shopfronts, as well as on your own website or landing page to link to the registration form. You can also incentivise them with a discount if they sign up from that page.
Personalisation of QR codes
QR codes (or Quick Response) can be fully adapted to your brand image because it is possible to customise the design to choose their colour and size. This way, they are perfectly integrated and do not clash with the style of the rest of the photographs.
So, you can easily add them to your newsletters or any type of campaign, the Acrelia News campaign editor includes a QR code generator. Just insert the corresponding block, choose the content to link to and modify the design to match your template.
Take advantage of this free functionality to boost your brand and don't forget to add a call to action describing what subscribers will find when they scan it with their mobile.
Do not miss anything from our blog and join our Telegram https://t.me/acrelianews
---
Related posts
Haven't you tried Acrelia News yet?
If you like this post, you will like much more our email marketing tool: professional, easy to use.