Email Campaigns Editor
Category: Email Marketing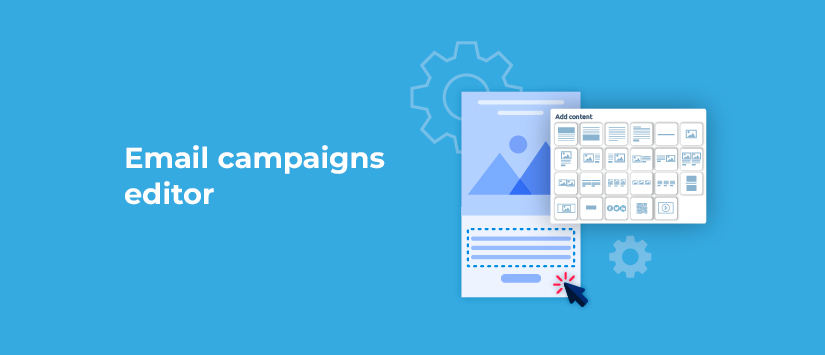 Do you want to hear a secret?
The predesigned templates offered in Acrelia News are designed using the same campaign editor available on your user platform. Browse the Templates library to discover what you can do in a few simple clicks.
Acrelia's editor allows you to create professional newsletters without any technical knowledge.
More than 30 different content blocks
In our editor you will be able to use different content blocks to create all kinds of designs for your newsletters: blocks of 1 to 3 columns, combining text, images, buttons… All of them are fully customisable with your colours and corporate style. In addition, with Acrelia's campaign editor you will be able to move, duplicate and delete easily the different contents, hide them in a specific mailing or delete sections you do not need in order to keep only what best suits your design.
QR Codes
QR codes allow us to share information (text, web, contact details...) in an easy way. The uses that can be given in email marketing are many. With our editor you will be able to add and customize QR codes to match the design of the template or corporate colours of the company.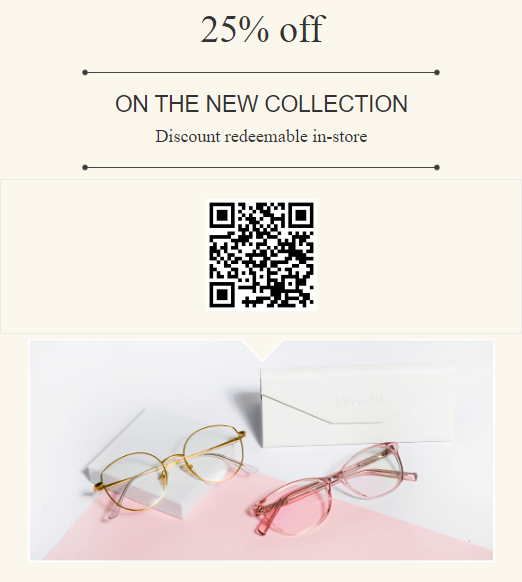 Video content
Audiovisual formats have been gaining notability and are becoming increasingly important. Either as a central element or as a complementary element, thanks to this block you can add videos in the body of your newsletters without having to worry about their correct visualisation. Moreover, the thumbnail and the "play" button are customisable.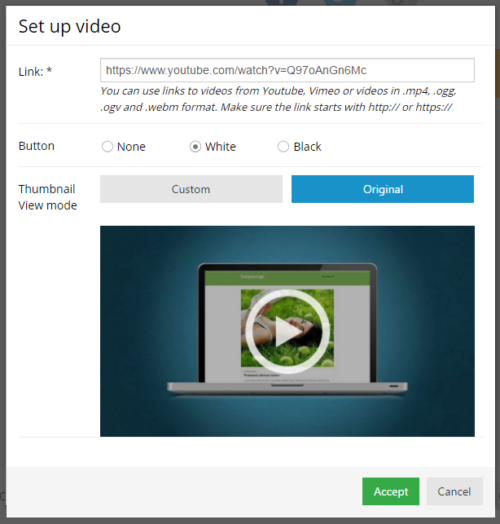 Countdown timer
Calls to action are one of the most important parts of email campaigns. Depending on the mailing, adding an element that denotes urgency can help users make decisions. In these cases, a countdown is an eye-catching element that can help increase conversions. In addition, it is multi-language and will adapt to all devices and email readers.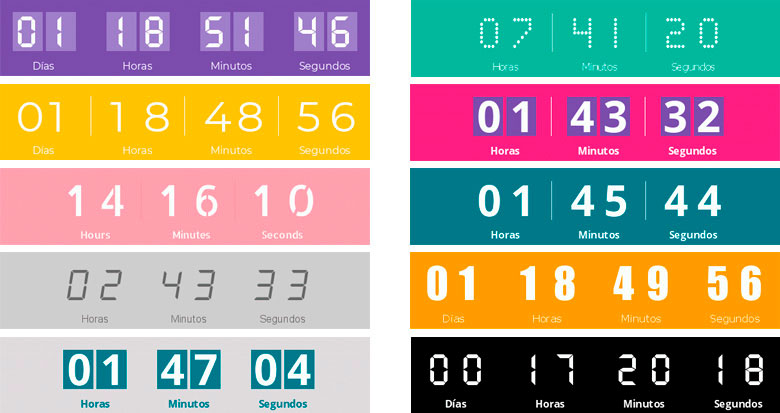 Reuse of content
If you want to save time when creating campaigns, there are two blocks that allow you to import, very easily, content from campaigns that have already been sent or from pre-designed templates. This is a way to reuse timeless content and gain efficiency when designing content. Moreover, if you have sub-accounts, you will be able to take advantage of the common contents in a simple way.
Personalise your campaigns
Despite sending mass mailings, with Acrelia's editor you have the possibility to personalise the messages you send to address each of your subscribers using the information you have about them. In this way, you will get messages that are closer to your subscribers. This can be done thanks to merge tags and custom fields. And if you want to go a step further, you can add personalised images for each subscriber in your campaigns. This way your mailings won't go unnoticed.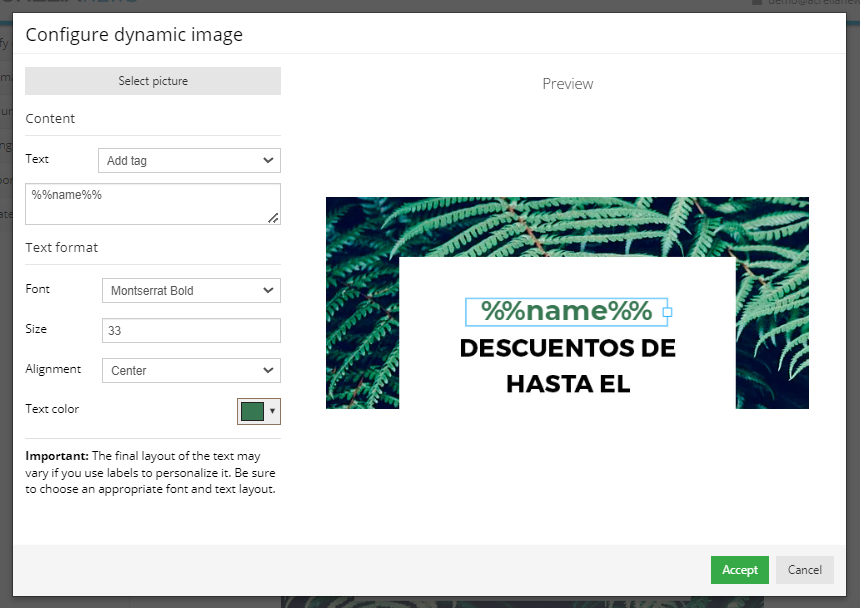 Sending with dynamic content
One of the secrets of successful email marketing is to send subscribers content that is of interest to them. Doing this is very easy and does not necessarily involve creating more than one newsletter. Thanks to dynamic content, it is possible to show or hide blocks of content to segments of your database. In this way, subscribers receive what is really relevant to them and interact more with the mailings.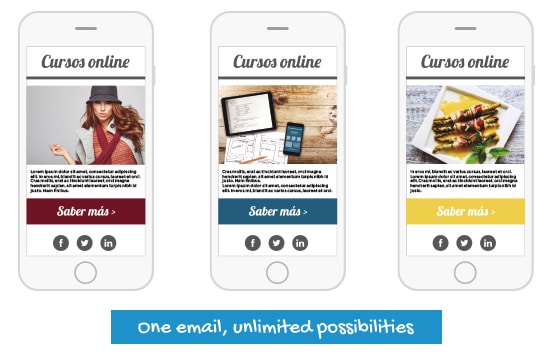 Preview your campaign
Once the campaign is finished, the biggest mistake you can make is to proceed to send it without having made several checks before. Thanks to Acrelia's editor, you can make a preview from the same editor. In this way, you can check how the campaign would be displayed both on a computer and on a mobile phone. But not only this, there is the option to send test mailings to a single email address or to a list of up to 10 contacts. This way you won't miss anything when you send a mailing. And if you are concerned about ensuring a good user experience, the editor also allows you to check the loading speed of your images to make sure that the loading times of your newsletter are optimal.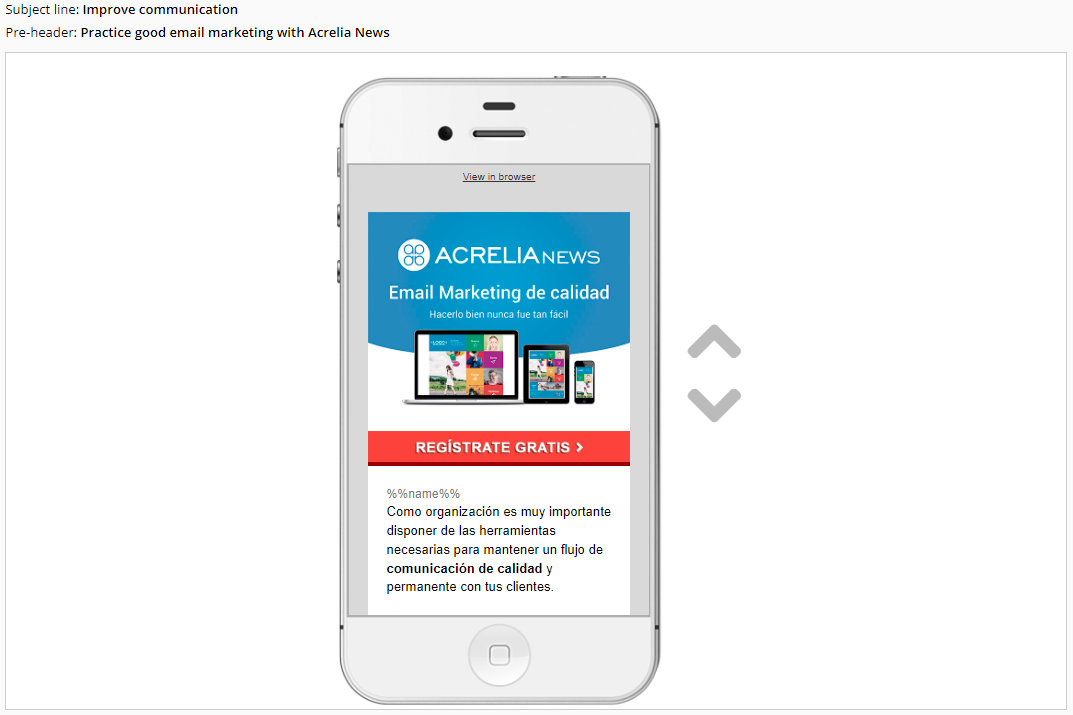 Make your mailings accessible
When sending a newsletter, it is important to think about all subscribers and potential customers, and this includes, for example, people with visual disabilities. In Arelia, accessibility is very important and that is why the editor includes a filter that you can apply when previewing the campaign and that will show you how users with different types of colour blindness will see your mailing. Remember, moreover, that you can configure alternative texts in all the images you include.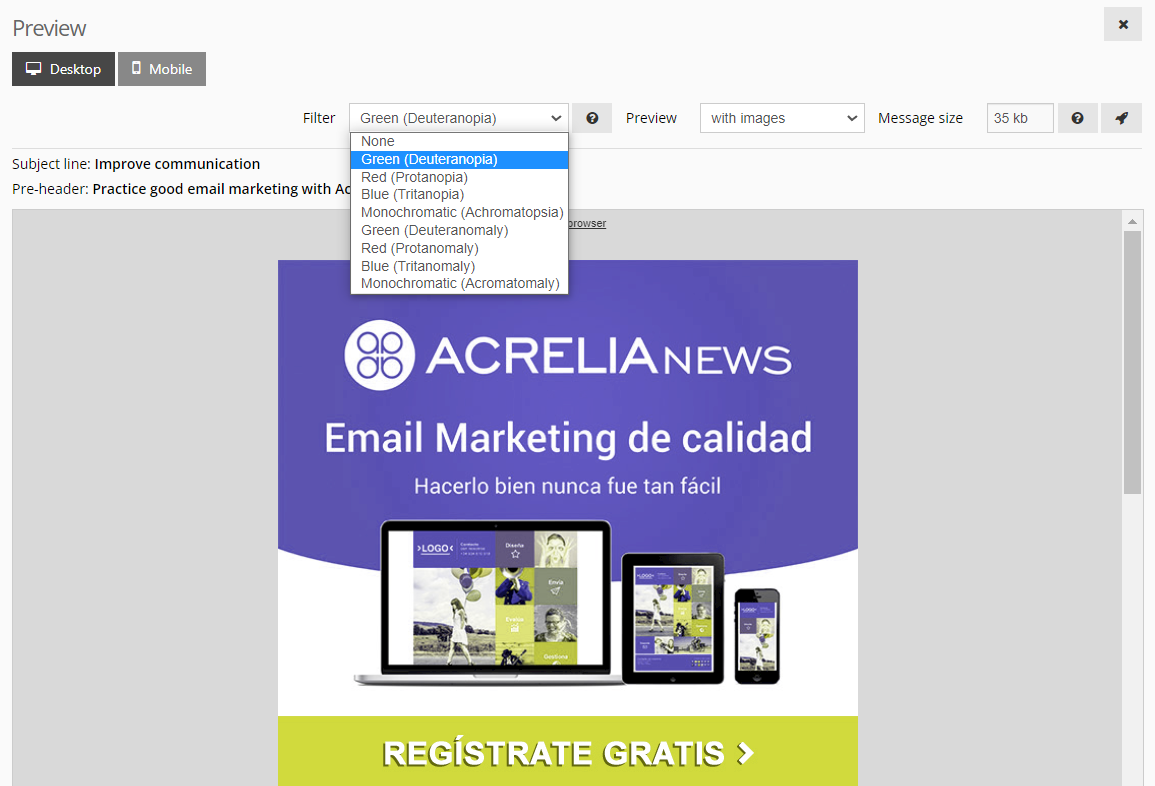 Keep your campaigns out of the SPAM folder
In email marketing, the deliverability of your campaigns is fundamental. That the mailings you make can end up in the spam folder of your subscribers is something that worries everyone. Therefore, in Acrelia we have a validator that helps you detect elements of your campaign that could make it end up in SPAM.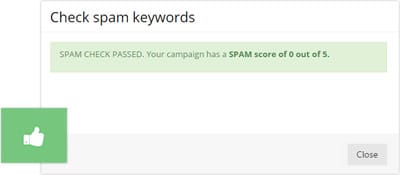 Verify the links in your mailings
Sending a campaign with broken links is a common mistake that you can avoid. Broken links can cause conversions to drop considerably and the money you have invested in the campaign to go to waste. If you want to avoid this situation, you have at your disposal a link checker that will allow you to check if all the links in your campaign work with just one click.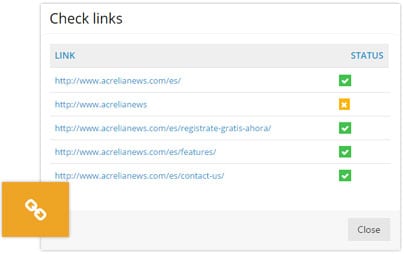 Categorise your campaigns
If you send different types of mailings, keeping track of all of them can be a difficult task. Thanks to the categorisation of your campaigns, you can add tags that allow you to classify them for effective management, filtering and tracking. A very useful feature when working collaboratively.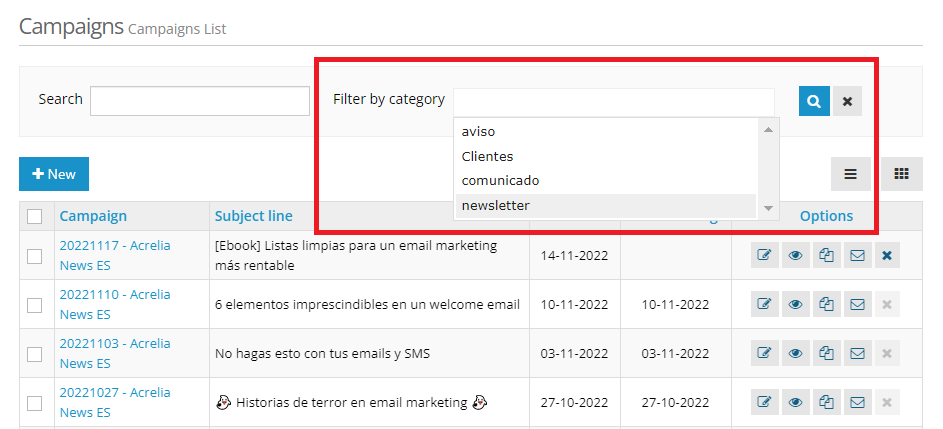 Our campaign editor is very powerful and easy to use, give it a try with your first campaign!
Do not miss anything from our blog and join our Telegram https://t.me/acrelianews
---
Related posts
Haven't you tried Acrelia News yet?
If you like this post, you will like much more our email marketing tool: professional, easy to use.