8 ways to test your campaigns automatically
8 ways to test your campaigns automatically
Category: Email Marketing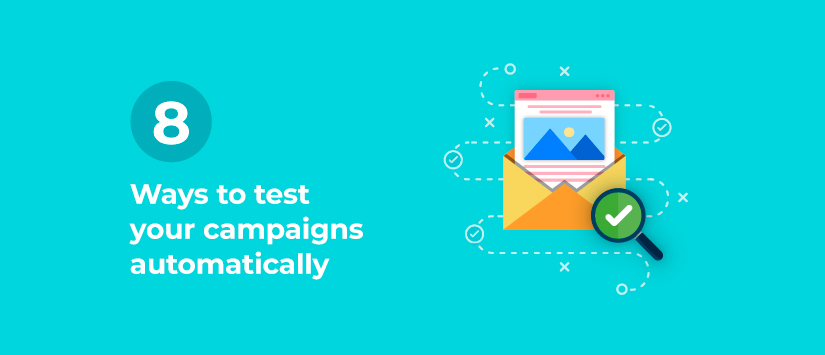 Automatic tests in email marketing are a way to save time by checking that your mailings have no errors. The analysis is immediate, so you can instantly fix what's wrong with a visual summary.
With our email marketing tool you can test the most important elements of your campaigns and make sure that nothing negatively affects the results.
Subject line length
A subject line that is too long can spoil the first impression the subscriber receives because they may not read the whole thing. Try to stick to the recommended length of 50 characters so that you don't get the red warning.

In addition to making the whole thing readable on both desktop and mobile devices, having a character limit forces you to be more direct in your writing, which also helps with comprehension.
Alternatively, use the pre-header to complement it or leave it blank to make it stand out in the inbox.
Anti-spam filters
Analysing the content of your campaigns to see if it will be considered spam or not is an essential test that won't take more than a few seconds and will avoid deliverability problems in your database.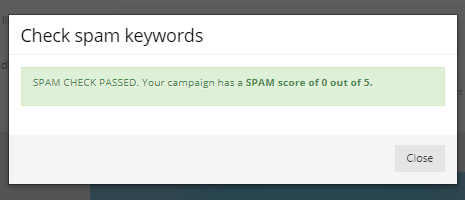 Our anti-spam analyser validates the content you use in the HTML and text version to recommend which changes will help you overcome the filters of the email managers. The most common are words that spammers use, but there are other variables that we take into account so that your campaigns end up in the inbox of your potential customers.
Broken links
In informative newsletters, checking all the links, although necessary, can be tedious and an error could jeopardise the click-through rate. It is just as important to check it also in promotional campaigns where there is only one link to a landing page because, if it is broken, it could bring down conversions to zero.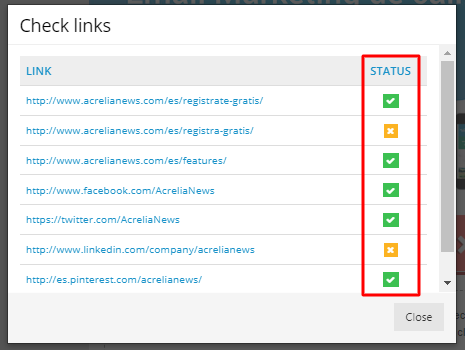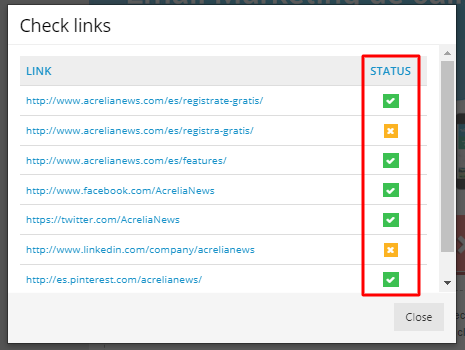 Using a link checker saves you time because it gives you a quick and visual overview of which links are correct and which ones you should check. This way you can better evaluate the statistical data.
Downloading images
The download speed of the images is a factor that the sender cannot control because it depends on the connection of each user, but it is possible to test it considering the most common ones (both in computer and mobile). In this way, you can detect the heaviest ones in time to edit them so that they do not affect the reading experience.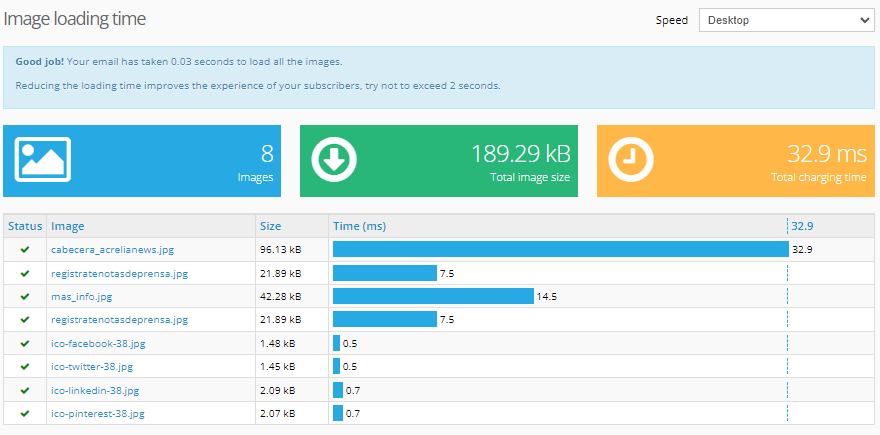 Take advantage of this test to also look at the total loading time, considering the size of all the images, so that you don't exceed it.
Message weight
Sending an email that cannot be read in its entirety because it exceeds 102 kb is a mistake that can be avoided by checking beforehand how much the code takes up, i.e. both text and images. This is almost impossible to do by hand, but it is automatically instantaneous and the benefits are many.

Although Gmail clipping is the most direct consequence of excessive message weight, you also have to think about usability and sending too much content can affect the reading time and the number of unsubscribes.
Responsive preview
Checking that the campaign looks good on all devices is a test that should not be overlooked, especially when using a template for the first time or when changes have been made to the code of a pre-designed template that may affect its visualisation.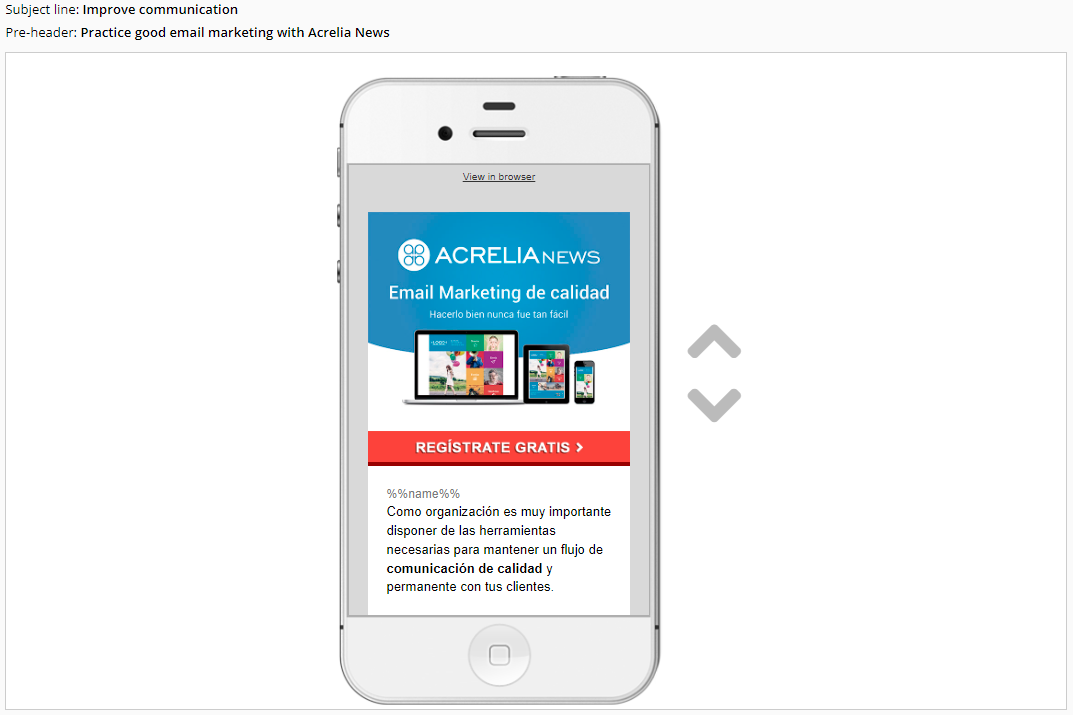 In addition to mobile devices, it is also necessary to take into account different screen widths and content managers that can vary, for example, the size of the columns and with them the composition and comprehension of the message.
Accessibility
Email marketing campaigns need to be accessible so that all recipients can read the emails without difficulty. This may concern colours and alternative texts of images and therefore visually impaired people and reading devices.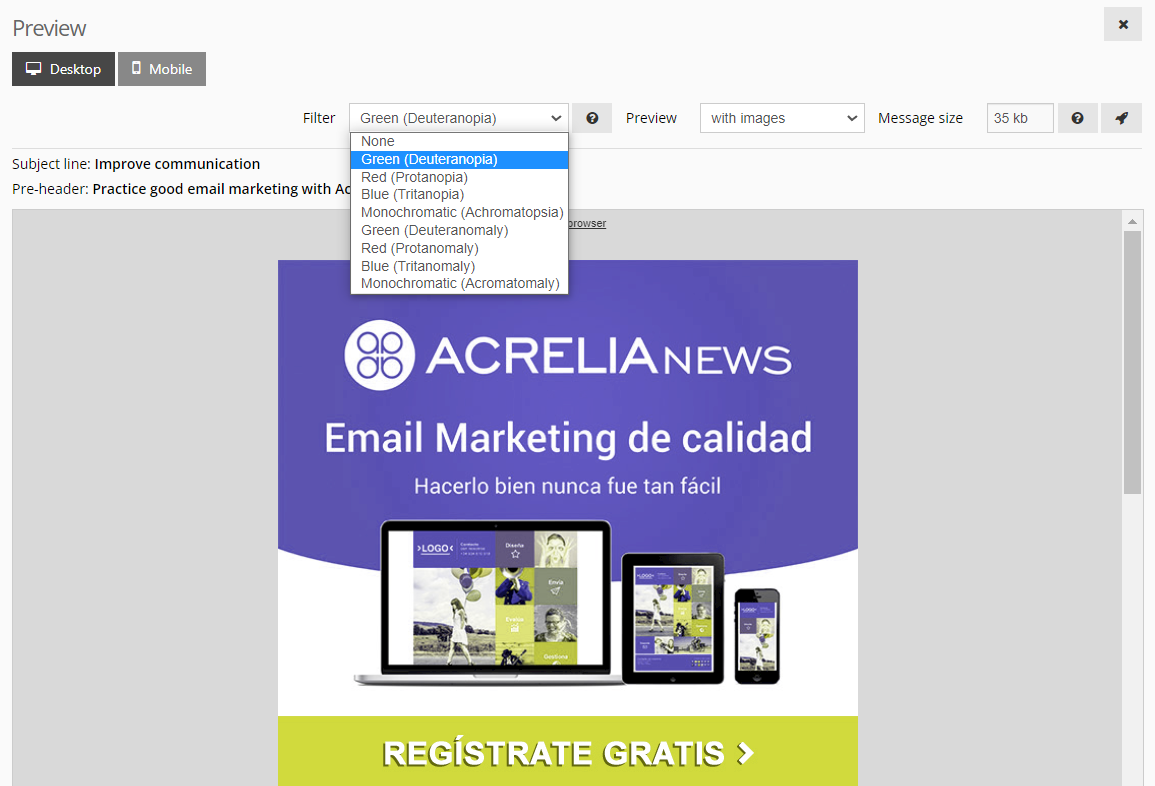 An accessible campaign is also concerned with typography, text justification and the balance between text and images so that it can be read as well as heard.
Verify emails
In fact, testing in email marketing starts before sending a single mailing with the verification of the contact list. With this service, it is possible to get a report of which emails are valid, non-existent, temporary or even spamtraps so you can send campaigns to a clean list.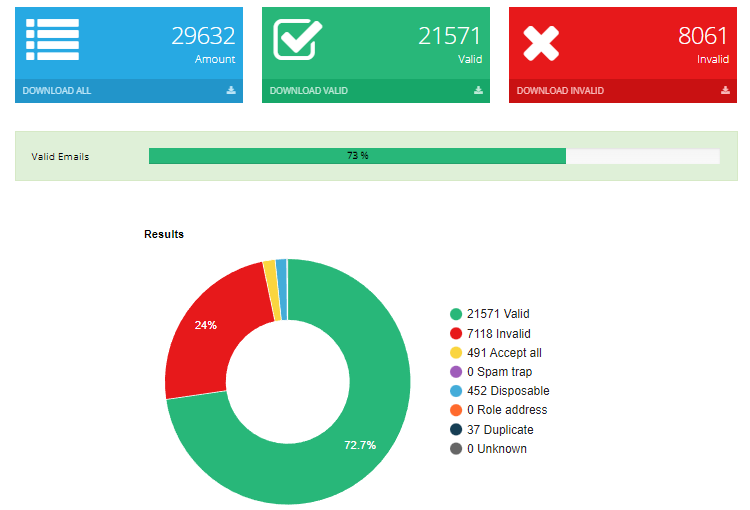 It is a good practice to do a verification of emails with some frequency so that the quality of the list does not decrease, not only in businesses with professional accounts that may vary over time.
In Acrelia we offer these automatic tests because we know that they influence the results of the mailings and we are already working on new options so that our customers can save time without losing quality in their mailings
Do not miss anything from our blog and join our Telegram https://t.me/acrelianews
---
Related posts
Haven't you tried Acrelia News yet?
If you like this post, you will like much more our email marketing tool: professional, easy to use.