How to test your campaign
How to test your campaign
Category: Email Marketing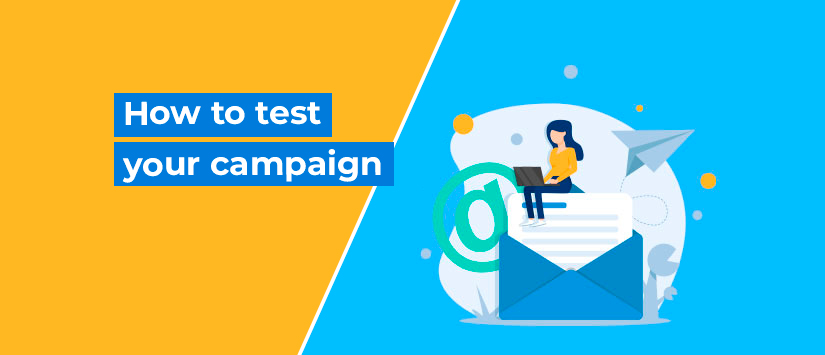 You have designed the email marketing strategy, created valuable content for the user and segmented the recipients, so you can now send the campaign. Wait, not yet! First, you have to make sure that everything is correct, if not you might fall into the mistake of having linked the wrong call to action button or, worse, not having added any link.
In Acrelia News we recommend you to check some things before sending anything because you won't be able to make changes after sending the email. Test the content, the design and review the settings so that there are no errors that make you look bad in front of your audience and force you to rectify.
Test your content
The most basic thing you can do to check your content is to avoid typos: just use your word processor's proofreader (copy and paste the text of your campaign) or your browser if you have it set up that way. But there are other less obvious aspects that also influence the results of your email marketing.
Avoid spammer words
With the anti-spam analyzer, you will be able to know which words can potentially lead your message to the spam folder of your subscribers. To avoid anti-spam filters, change the ones we mark as dangerous to a less conflicting synonym.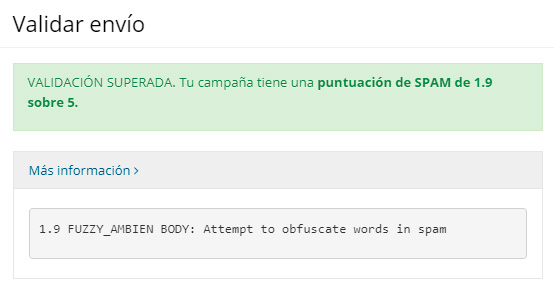 Check links
Open the link checker to make sure that they all lead to where they should and that none of them is broken, especially if you are reusing an old campaign. This is also a good time to confirm that calls to action match the landing page and that they are completely clear and they cannot mislead the subscriber.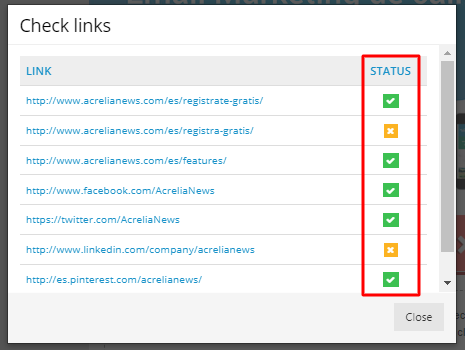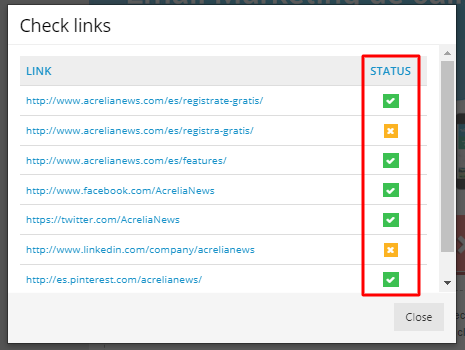 Check that everything fits
When using content from your word processor, make sure it fits well in the campaign template: check if there are any words that stand alone in the last line of a column or if sentences can be shortened to fit better in the text block, for example.
Test the visuals
Design is usually something that worries companies a lot because not all email managers (Gmail, Outlook...) display messages in the same way. That is why from the beginning it is advisable to work conscientiously on the template on which the campaigns will be based and to make the minimum modifications to its structure (header, columns...) in each mailing.
Preview the campaign in several ways
While you are designing the campaign, make sure you check how your subscribers will see it. It allows you to verify that content changes (photos, text) do not ruin the template and that it still looks good on both desktop and mobile versions. In addition, you can apply various filters to identify possible vision problems in colour-blind people.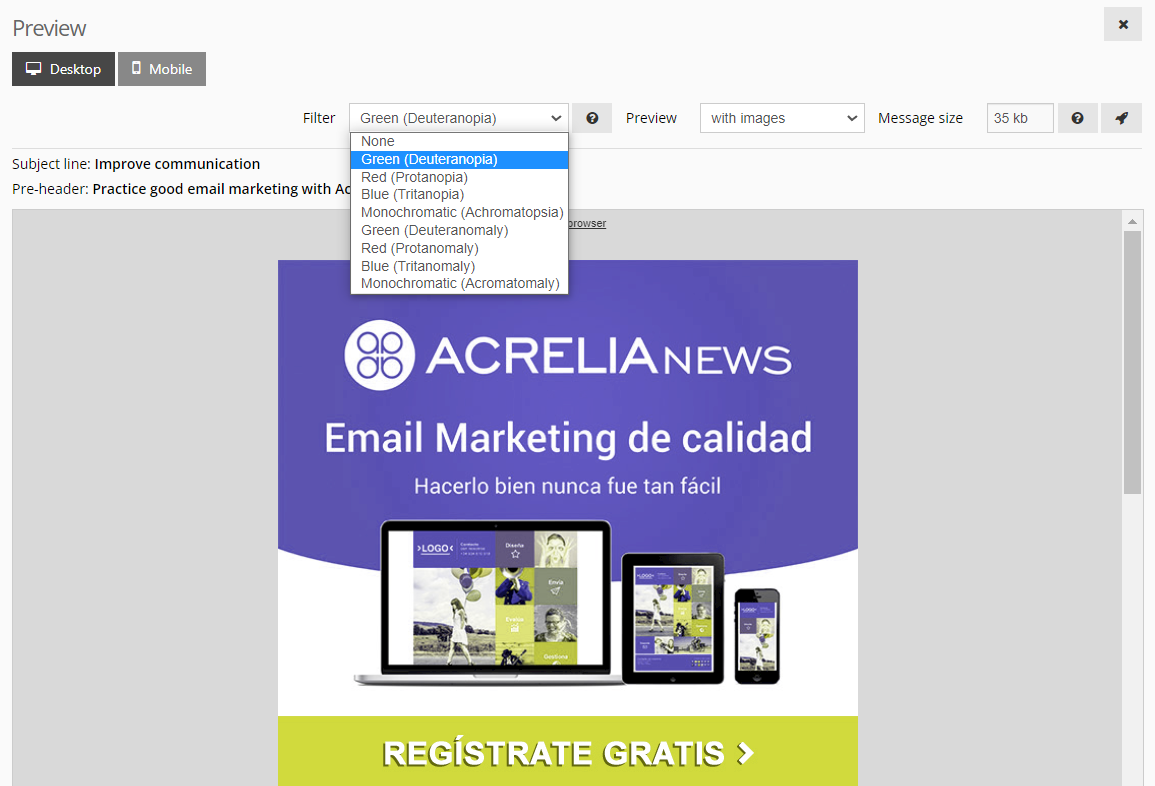 Check accessibility
If you create an accessible campaign, you ensure that all your subscribers see your mailings on equal terms. For example, be sure to include alternative texts on images that describe them correctly. As well as helping visually impaired people understand your message, you will also check how users who have automatic image loading turned off will see it.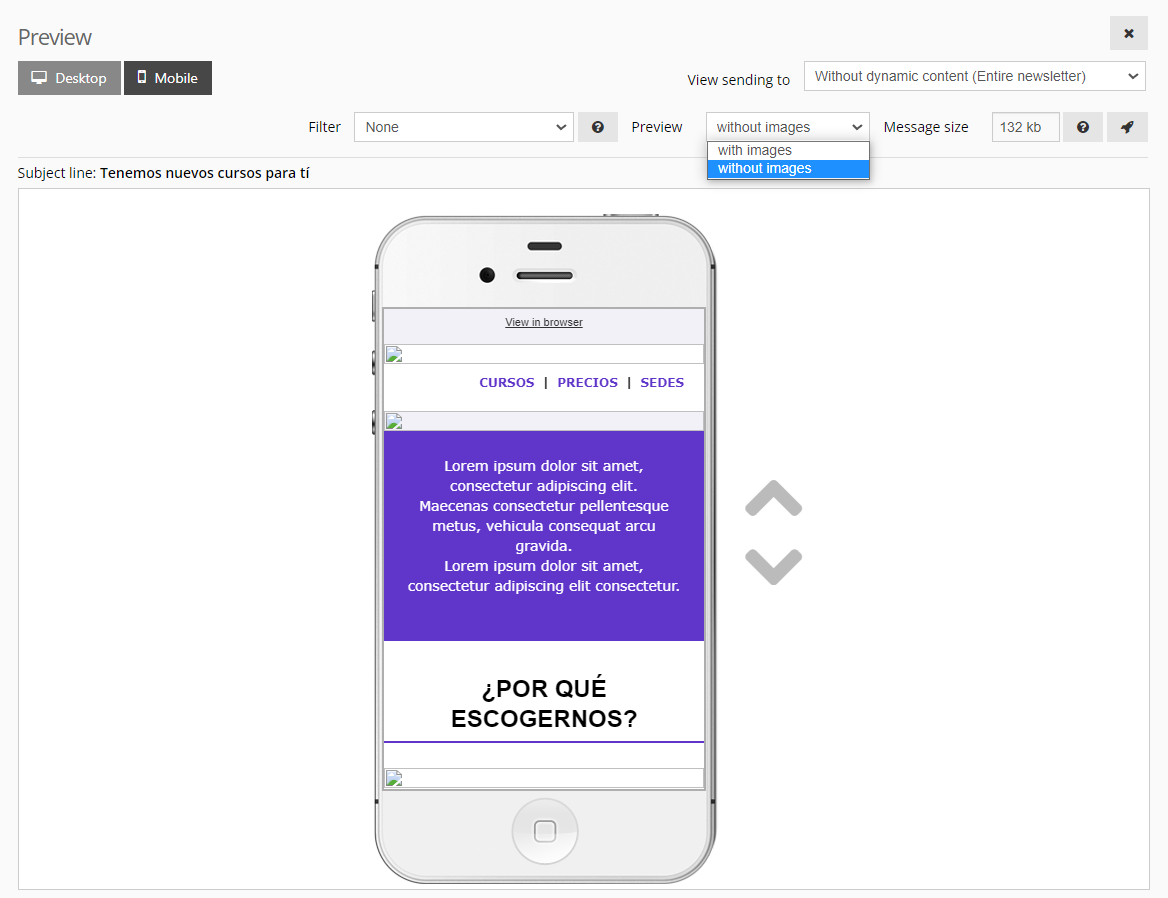 Check the loading speed of your images
Whether you have one or several images, it's best to check how much they weigh individually and in total so that they don't spoil the user experience. If images are too heavy and the connection is too slow, they will take a long time to load. Even if it only takes two seconds, the perception is negative, so it's best to avoid this. Check the graph in our campaign editor and correct any images that are too heavy, for example by changing the size, resolution or extension.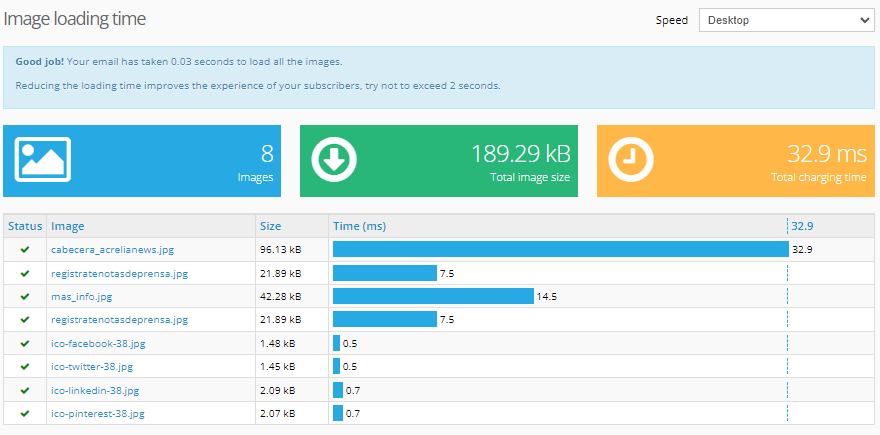 Make sure your message is not cropped
Email managers such as Gmail take into account the weight of messages in order to crop them and not show all the content to subscribers. This cropping affects, in a negative way the user experience, but not only this: the statistics end up distorted because these messages are not counted as opens. In the preview, look at the size of the campaign and make the necessary adjustments so that all users can see it in its entirety.

Test everything
To rush can cause us to make mistakes that we wouldn't make if we had spent a little more time, but it also makes improving what we replicate in each message impossible.
Review the subject and preheader
Try to improve the subject line by using wisely the space and avoiding repeating the same ones. Fill the pre-header with a text that encourages people to open the campaign and review how the emojis you have included look so that there are no misinterpretations.

Check the sender's details
Check the sender's name and email address to make sure they are the most appropriate for each mailing: they can affect your open rate.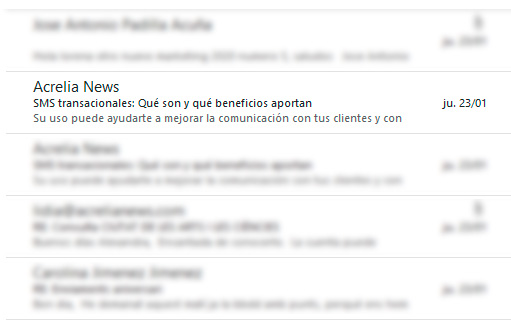 Final review
To test the global configuration of the mailing, the best option is to send a preview to your mailbox or to a test list in which you only have colleagues. This way you can review the content, layout and configuration options.
All of these recommendations will mean you have to invest a few extra minutes to prepare the campaign and you may not find them very useful. But once you get used to the routine of going through them, you will see that it is worth spending a little amount of time to make sure your mailings are as perfect as possible.
Do not miss anything from our blog and join our Telegram https://t.me/acrelianews
---
Related posts
Haven't you tried Acrelia News yet?
If you like this post, you will like much more our email marketing tool: professional, easy to use.