The nudge effect applied to email marketing
The nudge effect applied to email marketing
Category: Email Marketing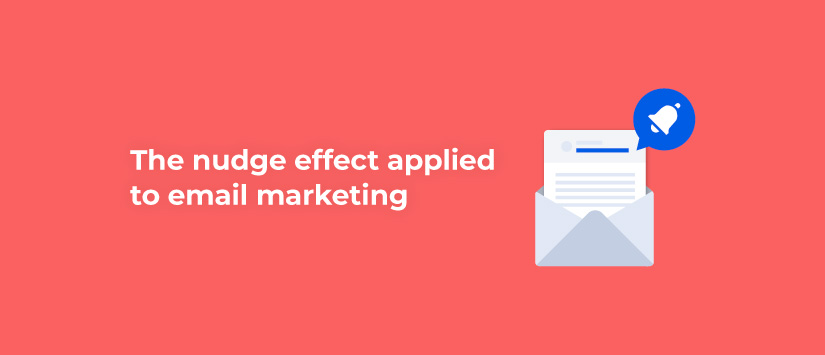 Possibilities for segmentation increase with each field in the database, even though we extract data not only from the registration form or website sign-ups but also from previous interactions with the messages we send. Who opens, where they click, how much time they spend reading us... Segmenting is about choosing to adapt the message to each type of user.
Segmentation serves short and long term goals
Although open rates stopped being 100% reliable with the introduction of Apple's Mail Privacy Protection, it is still a common practice to resend the campaign to people who didn't open it as a short-term segmentation criterion (remember you have other criteria, such as open rates or even clicks on specific elements of the email).
Segmentation is a good practice, although taken to the extreme, it can make some subscribers uncomfortable when they realize the amount of information the sender has. It can also lead to others forgetting about the brand because they don't fall under any segmentation criteria, for example, by not frequently opening messages.
The solution is not to stop optimizing campaigns. On the contrary, it's about doing it better, also considering the long term. Start by reviewing the information you collect from each user and how you are using it. Here are two examples:
You know where they open the emails, and you send a campaign only to those close to your physical store.
You know who clicks on the emails, so you decide to send only to those who did so in the last campaign.
Ignoring the rest of the audience by considering them non-potential customers is appropriate in the short term, that is, considering the results of a specific delivery. But what about the medium and long term? You also need a plan for those who don't fit into your usual segmentation because they are not yet ready to start the purchasing process. Perhaps they will do so later!
The nudge effect applied to email marketing
Dela Quist demonstrated that seeing the brand in the sender and the subject line can influence the purchasing decisions of subscribers. He called it the nudge effect, and his proposal to take advantage of this effect in email marketing is to focus the subject line not on achieving direct openings leading to sales, but to write it in a way that activates other channels where they can be profitable.
For example: the subject line of an email could be "Today Only: Your Swimsuit with 20% Off," and it would work well for those who abandoned their shopping cart. But with segmentation to leverage the nudge effect, it would be very different: "Call your sales representative to get 20% off" or "This week: 20% off at your nearest store."
Not opening a message doesn't mean not reading the subject line; it can have a medium-term carry-over effect for those who are not currently considering taking action upon receiving it. Some people save emails to read later, and they may end up converting weeks later.
A monthly newsletter is an excellent way to stay present in the inbox of users who do not receive commercial campaigns due to different behavior or data that may not be suitable for your business. The fact that you appear with a certain frequency is beneficial for the brand, even knowing that they don't open the emails and delete them without reading.
Do not miss anything from our blog and join our Telegram https://t.me/acrelianews
---
Related posts
Haven't you tried Acrelia News yet?
If you like this post, you will like much more our email marketing tool: professional, easy to use.