Tips to write a perfect preheader
Tips to write a perfect preheader
Category: Email Marketing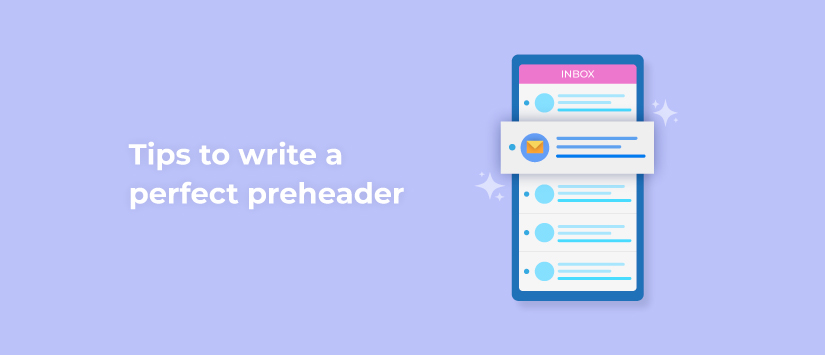 The subject line is very important in email marketing, but it is not the only thing that influences the opening rate: the preheader also deserves your attention if you want your list of contacts to be interested in the inside of the campaign. To achieve this, it is not enough to leave the default text. That's why today we're giving you some tips on how to write the perfect preheader to increase your open rate.
Extend the subject line
Considering the preheader as a complement to the subject line is its most common use. The easiest way to write it is to say the same thing, but with other words to reinforce the message. You can also use it to give some extra information to clarify the subject so that there is no doubt about what you are trying to convey.
For example, if the subject line is "Get an early start on your Christmas shopping", a suitable preheader would be: "We have the gift you're looking for".

Highlight the most important
Typically, the subject line is used to highlight the most relevant part of the mailing, although sometimes there are several key issues or you want to emphasise a particular piece of information, but there is not enough space. Then, the perfect pre-header would be a summary, the discount or a deadline that you want to highlight.
Continuing with the previous example, you could use "We ship until 15 December" or "Take advantage of our 15% off".

Generate interest
If we apply the AIDA copywriting technique, subject and preheader help us to attract attention because they are the first things the subscriber sees. That is why we have said that they serve to reinforce and highlight, but they can also be seen as a second opportunity to awaken the desire to open the email by generating some intrigue.
For example, if the subject line is "Looking for a gift for Christmas?", a good preheader would be "Original ideas at a good price".

Personalise it with extra data
Surely you have seen that personalisation increases your results. Adding the name in the subject line is the minimum and you can use other information you have for the preheader. This will get you more attention and more opens and, if you use tags or dynamic fields inside the campaign, more clicks.
For example, if the subject line is "%%Name%%, we are opening a new shop", the preheader would follow with: "You can't miss it: it's in %%City%%".

Use it as a call to action
Every campaign has a CTA inside, but you can also have one before if you use the preheader to get them to open the message. When they take a quick glance at your inbox, they will be struck by a clear indication that will be accentuated within the mailing.
For example, if the subject line is "New English course for adults", a good call to action would be: "Book an appointment for a level test".

Reinforce your brand
In the preheader you can remind subscribers why they signed up for your newsletter or what the benefits are. It also serves to increase brand recall by mentioning your brand (if it is not already shown in the sender) or by always using the same emoji (if it is related to your industry).
For example: "[emoji] Exclusive offer for customers" or "The news of [Brand] that you can't miss".

Leave white space
The number of characters displayed in the pre-header is variable, but 70 is a good number to write it. Even so, you don't need to use them all to fill the inbox with your text. Leaving a blank space can attract more attention than filling it completely.
Review the examples we have used: none of them is more than 50 characters long.
Check it out on mobile
Related to our previous tip, remember that every device is different and your database may see part or all of the preheader, depending on its configuration. Therefore, the more specific it is, the better. It's the best way to make sure it gets to read what's important (and you can leave the rest blank).
Do not miss anything from our blog and join our Telegram https://t.me/acrelianews
---
Related posts
Haven't you tried Acrelia News yet?
If you like this post, you will like much more our email marketing tool: professional, easy to use.