10 examples of product emails
10 examples of product emails
Category: Email Marketing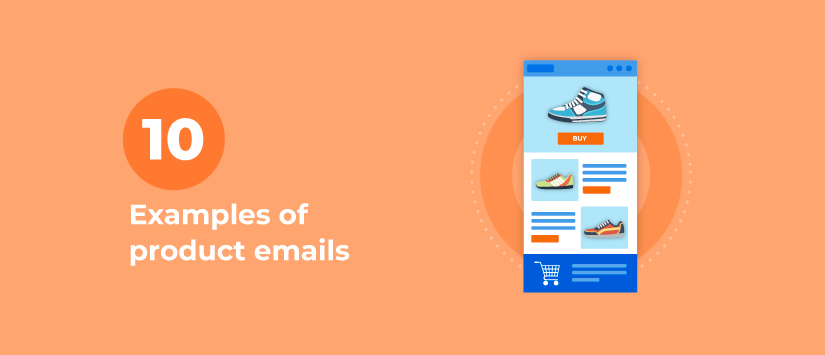 The most common thing is that companies renew their product catalogue every year. Whether it is to add new products or remove old ones, a complete redesign is usually carried out. Email campaigns, on the other hand, are constantly being transformed in order to remain eye-catching. They can't always be the same, on the contrary, you have to look for different angles to get clicks on each mailing.
Here are 10 examples of product promotion campaigns from different sectors so that you can see how many possibilities you have when it comes to show the elements of your catalogue in an attractive way.
Make a teaser
Whenever possible, it is a good practice to have a prepared calendar that allows you to organise your mailings. This makes it easier to make teasers in order to generate a little bit of expectation and give a certain amount of time to warn that something that may interest the potential customer is going to be launched. In addition, you can segment based on previous purchases to make the message more personal and take advantage of cross-selling.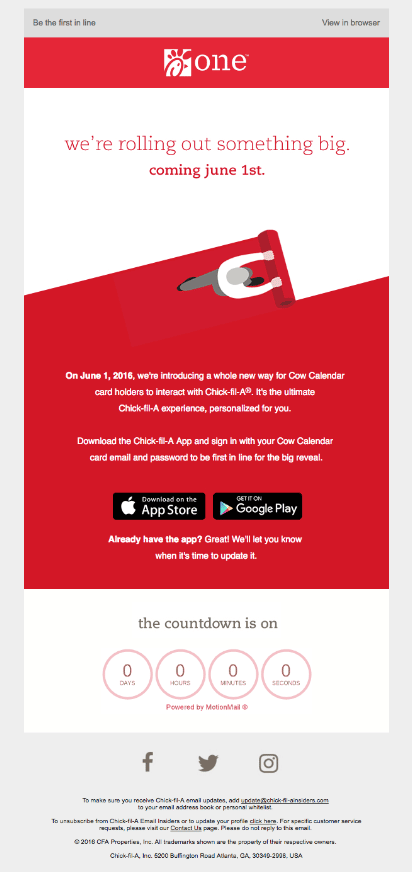 Source: Really Good Emails
Launch with personality
If your product is for everyday use, run away from corporate launch messages, where someone is "very happy" to announce something: they are too traditional. These may fit with another type of product, but using more informal language may be more appealing to the young audience who will be buying it.

Source: Really Good Emails
Show it big
A picture is worth a thousand words, and a very quick campaign to prepare is one that includes a large picture of the product. It can be a single image for the whole campaign or a couple of images that allow you to imagine what it would be like to have it at home. For this reason, it is very important to take care of the quality of the photograph, without affecting the weight of the email or its accessibility.

Source: Really Good Emails
Combining models and designs
When a single model has different designs, it is advisable to include several of them and not just send a single image. By doing so, we can take advantage of the opportunity to explain the strong points of each one so that the user can choose the one he/she likes the most. In addition, this way, the content is visually broken up to include more personalised images and texts.

Source: Really Good Emails
Propose different uses
To inspire new customers and encourage more purchases from existing ones, the most direct way is to offer several ways to use the product. You can do this with a set frequency, for example every fortnight, or take advantage of any excuse when the product is likely to be consumed to appear in their inbox.

Source: Really Good Emails
Include details of features
Every product is different and needs to be displayed in the way that stands out the most. For those where there is a technological component with numerical specifications, the best option is to link to detailed web pages or summary videos because, otherwise, the message becomes a list of features that will only interest a part of the contacts.

Source: Really Good Emails
Explain its story
Brands have a story and so do their products. Customers who know them feel closer to what they tell and value them more. It could be an innovative breakthrough for the industry, a contribution to CSR or simply where the idea came from. Discovering the origin of what is being bought is a rising value for the reputation of companies and demonstrates their social commitment.

Source: Really Good Emails
Make it a gift
Any time of year is a good time to exchange gifts and there is no need to wait for the more traditional ones, such as Christmas or Valentine's Day. Even so, in some sectors those festive sales can represent a large part of revenue, so it is a good idea to prepare your shipments in advance because competition can be fierce and you can go completely unnoticed. Also, don't underestimate gift cards: they can be a great solution for last-minute deliveries!

Source: Really Good Emails
Adapt the design to the product
A launch is a great opportunity to avoid the usual template and try out colours adapted to the new product. You can also change the text to include a pun related to its features. This way, you amplify your personality and make it more appealing to the customer, which can increase their interest and click-through rate.

Source: Really Good Emails
Post reviews
To reinforce the idea that it is a good product, adding a sentence or testimonial from customers who already have it is a very powerful element of persuasion and, accompanied by a discount, even more so. It is obvious that this cannot be done at a launch, but it is a type of campaign that can be sent at any time, even recurrently in the newsletter with a specific section.

Source: Really Good Emails
Do not miss anything from our blog and join our Telegram https://t.me/acrelianews
---
Related posts
Haven't you tried Acrelia News yet?
If you like this post, you will like much more our email marketing tool: professional, easy to use.