Do you use preheader in your email marketing mailing?
Do you use preheader in your email marketing mailing?
Category: Email Marketing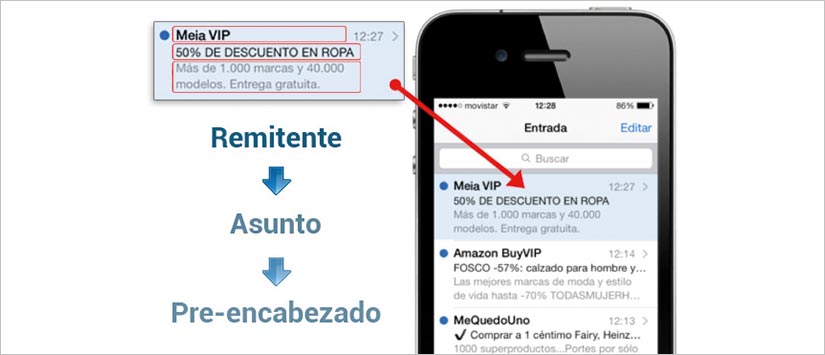 The preheader is the text displayed below the message subject in your inbox messages list. It is one of the first three elements your subscriber sees to check his mail so it is vital to set it correctly.
The preheader is used to provide a preview of the email content and we must consider it as a second message subject that can help capture the attention of the recipient.
The main function of the preheader is to complement the subject line. Taking as defined objective, it is curious to see how many campaigns are not configured to use this functionality and this causes appear by default the text portion inside the email which as a rule is usually the message "If you can not see this email correctly, click here ", a fact that makes lose all sense of this feature.
Which role can the preheader play along with the SUBJECT LINE?
Continuity of the subject line. If you have not enough space on the subject to put all the information, you can use the preheader to complete it.

Interaction with the subject. Use it to reinforce the message to achieve greater impact. In this case play with creativity will be of great utility. You can report time limits promotion, detailing discounts, among others.

Subscription. Will serve to establish the reason for the subscription, why email arrives to user's mailbox..
Tips for creating a successful preheader:
Extension. The number of preheader characters is different for each mail client, although it is advisable between 60 and 70 characters maximum.

Visualization tests. Visualization tests. We recommend you to test different types of preheaders to choose which one best fits your mailing, also remember to adjust the text to the best displayed solution.

Mobile devices. Do not forget to test for mobile devices because, in them, is almost always displayed regardless of the mail client used.
As we said before the first time you have to gain user's attention is through the message subject, so it is important to work it to incite the call to action.
If you want to know how to give more strength to your subject line, we invite you to read the articles Use symbols in the message subject and #EmailsWithHashtags the last trend.
Do not miss anything from our blog and join our Telegram https://t.me/acrelianews
---
Related posts
Haven't you tried Acrelia News yet?
If you like this post, you will like much more our email marketing tool: professional, easy to use.