Pinterest in your email marketing strategy
Pinterest in your email marketing strategy
Category: Email Marketing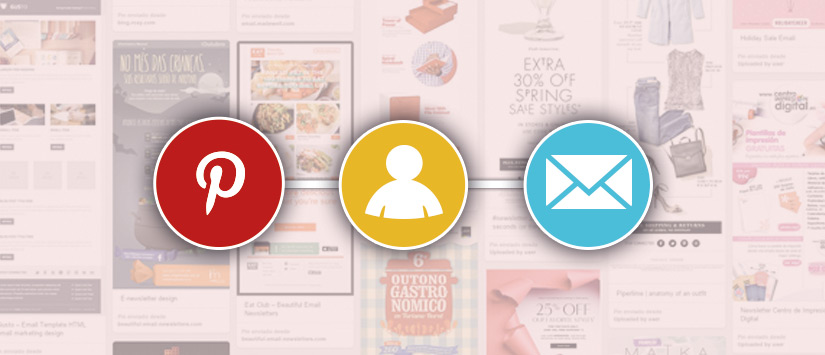 Pinterest is a relatively new social network if we compare to the generalists Facebook and Twitter. But since it appeared five years ago offering the possibility to share images of interesting things, has achieved that the rest give ever greater priority to the visual content that users share.
It is the prefered social network for a very specific target: there are 70 million Pinterest users worlwide, and the 80% are woman. In the world, according to DMR, the percentage Pinterest users at least weekly is 47%. Data are to be considered, but the most interesting is its ability to bring traffic to retail. Combined with the fact that allows you to include the price in the images of the products that are pinned, Pinterest is a channel that should be present in all marketing plans of online stores.
But, how can I use a social network of images in email marketing? Pinterest allows you to send messages between users, as Facebook chat, but we dont have access to their email addresses, we can't install applications to do raffles in exchange for their data , or anything close to what we have been explaining to get subscribers in social networks. Here we are going to use creativity to increase traffic and sales through own sendings.
The first thing you need is a Pinterest account, obviously. Start creating boards for your products and your blog images. Pin them always from your corporate website so that they are conveniently linked. Add a description that is attractive and hashtags so that they are better positioned and, if you want, the selling price.
The next step is to create an email campaign with a very visual template, as if it were Pinterest grid. You can use the same images of your boards and accompany them with a call to action or simply incorporate the pin it button to encourage users to share them. You'll see how increases the CTR of the sending and, therefore, the visits to specific pages of the products you want to promote from your website.
Another option is to use messages of thanks for purchasing, to ask your customers to share the image they have just purchased. Thus it will not only be a transactional email, will have a more pleasant personal touch. In fact, one of the uses of Pinterest is to show objects, clothing and accessories that users like. And, if they just buy, it is clear that they like!
As we were saying, the creativity is what will differentiate you: you can use board pins to do a tutorial step by step and share in sending; make a raffle among people who share a particular photo, use the 'I like' to do a ranking of products, show your latest pins, etc.
Don't forget to ask subscribers to follow you in this social network to keep up to datet of new pins or add images on a regular basis to keep alive your presence on Pinterest. But don't limit yourself to corporate photographs, also can create inspirational boards such as those we have with infographics about email marketing, templates that we like or examples of campaigns. This way, users will have other reasons to follow.
Do not miss anything from our blog and join our Telegram https://t.me/acrelianews
---
Related posts
Haven't you tried Acrelia News yet?
If you like this post, you will like much more our email marketing tool: professional, easy to use.