Myth 5: Social media is more effective than email marketing
Myth 5: Social media is more effective than email marketing
Category: Email Marketing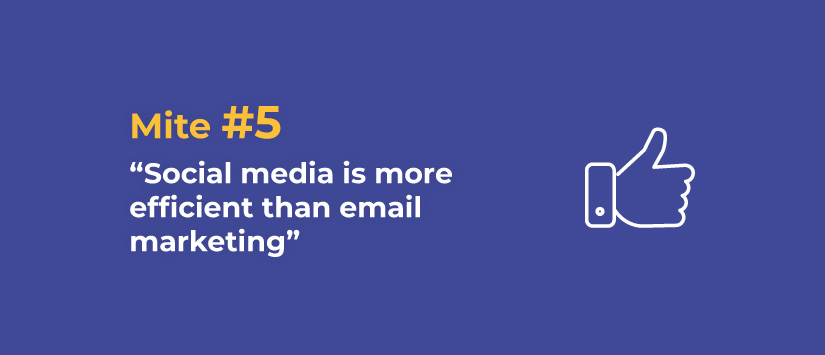 Direct marketing did not end when email marketing arrived, nor did it disappear with social media. It is always advisable to try new channels, but companies must evaluate them considering the results they achieve. Relying solely on vanity metrics is insufficient to decide where to invest resources.
It is easy to believe that social media is more effective than email marketing because it is "the novelty," but it is a myth that data easily debunk. If we make a comparison, email proves to be more effective: 40 times more than several networks combined.
Why email is more effective than social media
Each channel has its pros and cons, and social media is no exception. They are places where users gather and exchange ideas, but precisely for that reason, they are not always attentive to brand messages from a commercial standpoint. They are public spaces where it is easy to create and share content, but there is so much volume that gaining visibility can be challenging, especially because it is controlled by algorithms that constantly change.
In contrast, email is intended for an audience that has expressed consent to receive messages from the brand, which is a more thoughtful act than simply "Following" on social media. Additionally, it reaches their inbox and not in a news feed that depends on current events and what their contacts are doing.
It is true that there is no relationship between list members as can occur on social networks, but a trust bond is established with the sender. Even though companies send mass emails, campaigns can be very personal and focused on conversion, something more challenging on social networks because the available information is of lower quality for direct marketing actions related to previous purchases.
Followers and subscribers behave differently, making it difficult to compare them, but we can say that the inclination to purchase in email marketing is higher, making it more effective in terms of return on investment than social media.
How to measure effectiveness in email marketing
Interactions on social media may mean "I agree," and posts can be shared, which helps amplify company messages. Still, in a company, effectiveness is measured in conversions and sales. Although it is clear that everything contributes to benefiting the brand, even indirectly, the clicks obtained in a campaign are what ultimately influence the bottom line.
With this premise in mind, when designing an email marketing strategy, it is crucial to consider the metrics to be used. This will make it possible to take the appropriate actions that lead to achieving them. Therefore, to choose Key Performance Indicators (KPIs), it is essential to consider what is relevant to the business.
For example:
The open rate percentage can be considered a signal that the brand is recognized, and there is a certain interest in knowing what it sends.
The click-through percentage demonstrates that a purchase, ticket reservation, or any requested user action is being considered.
The conversion percentage starts with the click in the email but ends on the website where the action is completed.
Additionally, calculating the return on investment is a way to compare channels by valuing income in relation to costs. It is also necessary to include customer loyalty and satisfaction to have a more comprehensive view of everything that email marketing contributes to the company.
How to increase the effectiveness of email marketing
conduct a more general audit focusing on aspects ranging from design to deliverability and make decisions for your subsequent communications.

There are two key factors in the effectiveness of email marketing, and all elements of a send depend on them:
Segmentation: not all people on a list have the same interests or have purchased the same products, perhaps they are not even in the same city. Contacts can be dynamically segmented to better choose which communications will impact them most based on information available in the database, such as where they clicked previously or when they last made a purchase. There can also be static groups created for specific campaigns.
Personalization: if segmentation is an internal task that the user does not perceive, personalization is the opposite because it involves showing them that this message is for them and no one else. Thanks to tags and dynamic fields, it is possible to insert any element available in the database (name, profession, purchased product...). When this information is strategically placed (subject, images, discount coupons...), their attention is much more attracted.
By combining segmentation and personalization, the effectiveness of email marketing increases. Sending the same message to the entire list without any evidence that you have thought about them can result in negative metrics. You will have to invest a little more time, but you will see that your results improve significantly.
Why combine email and social media
Myths spread quickly when based on opposition because there is always someone who prefers one side or the other. In marketing, this is a mistake because better results are achieved when working as a team. If we add different actions in various channels instead of considering them exclusive, it will be easier to achieve the common goal.
To combine social media and email, the strategy must be clear, and messages must be distributed between these channels to respond at the best time to customer needs. For example: customer service via email perfectly complements the instant messaging offered by social media. Following their customer journey and with the appropriate metrics, it is possible to choose which campaigns are more effective depending on the moment they are in.
Download the ebook "Myths of Email Marketing" to learn about others you should stop believing in.
Do not miss anything from our blog and join our Telegram https://t.me/acrelianews
---
Related posts
Haven't you tried Acrelia News yet?
If you like this post, you will like much more our email marketing tool: professional, easy to use.